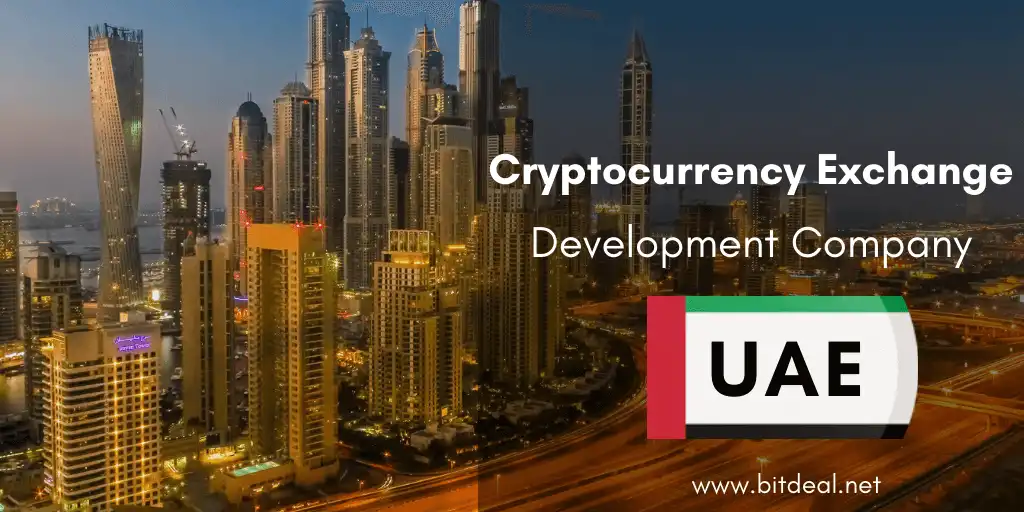 Cryptocurrency Exchange Development Company in Dubai, UAE
Bitdeal - Leading Cryptocurrency Exchange Development Company in and around UAE offers complete Cryptocurrency and Blockchain related services such as Blockchain Development, Dapp Development, Cryptocurrency Wallet Development, p2p exchange development. etc
We choose the United Arab Emirates because of its superior economic growth. UAE is now known for its skyscrapers and jaw-dropping engineering skills, but soon people will identify Dubai for its excellence in cryptocurrency and blockchain technology. There is no doubt that it will be another glory for UAE.
Why UAE?
The UAE government begin to realize and started encouraging the blockchain and cryptocurrency-related business. They have created a legal and regular framework in terms of bitcoin. UAE firmly supports blockchain technology and also uses it for storing all the government federal transactions.
Cryptocurrency Regulations and Legislation in UAE
Financial Services Regulatory Authority
FSRA is responsible for blockchain and cryptocurrency-related project regulation. This Authority works to prevent money laundering and illegal activities in the blockchain business. They have issued complete guidance on cryptocurrencies.
Securities and Commodities Authority
The primary motto of this Authority is to keep track of the markets. This Authority is independent financially as well as Administratively
Dubai Financial Services Authority
DFSA works only in the special economic zone. It looks after banking, investment, fund management, asset management, etc.
Dubai Multi Commodities Centre
This Centre is the place to work with cryptocurrencies and they are responsible for providing crypto licenses. getting a crypto license is an indispensable thing to make your business legal in UAE.
Reference: prifinance.com
Cryptocurrency Trends in UAE
1. Regal Assets is the first company that gets a crypto license from the Dubai Multi Commodities Center and it provides a cryptocurrency storage facility for customers.
2. All kinds of Crypto assets are not allowed in the UAE. The government has analyzed factors such as security, traceability, market Capitalization and allows some of the assets.
3. The goal of UAE is to make use of blockchain technology in at least 50% of the federal government transactions and by 2020, aims to make Dubai fully powered by blockchain technology
4. In October 2017, Dubai developed its cryptocurrency and named it as EMCASH which is accepted as a payment system in government services and educational institutions.
5. In the month of December, UAE has announced another Cryptocurrency and uses it for cross -border transactions with Saudi Arabia.
6. Dubai has played an eminent role in Global Blockchain creation
7.UAE's finance minister recently announced that they are planning to acknowledge digital tokens and soon going to introduce the regular framework to manage crypto-assets and ICO
8. In the year 2018, UAE has announced that they are going to shut down spam Cryptocurrency account holders and cryptocurrency exchange platform in order to prevent money laundering and other illegal activities.
Reference: globallegalinsights.com
Cryptocurrency Taxation in UAE
UAE does not claim tax for cryptocurrency projects. From the year 2018, they have announced the value-added tax in the 5% rate but in general, there is no taxation for cryptocurrencies.
Popular Crypto Exchanges in UAE
BitOasis
It is the Dubai based largest Cryptocurrency Exchange founded in the year 2015. Crypto Wallet Development and Exchange is their primary service and they are now concentrating on the mobile-first approach. BitOasis encourages the government to develop more regulations regarding cryptocurrencies.
BitPado
BitPado is the newly emerging crypto exchange platform and has a huge number of traders. It supports major cryptocurrencies such as Bitcoin, Etherum, Ripple, etc
Emcredit
It is the branch of the Dubai government's economic department. they are the ones who developed EMCASH which is the official cryptocurrency of UAE.
Palmex
Palmex is the first newest exchange platform for asset exchange. it also supports cryptocurrency trading.
Adab Solutions
It is the first Islamic crypto exchange follows strict Islamic laws in the month of August this year
OneGram
It is the first physical gold reserves based cryptocurrency exchange and it is aiming to make cryptocurrency as the online payment system
ArabianChain
It is the largest Crypto firm suited in the middle east and has raised over $1.5 million from investors. Its goal is to create a Decentralized Exchange Platform
Block Gemini
Block Gemini is the top Cryptocurrency consulting service. They offer both software solutions as well as consulting services.
Reference : kintu.co
Our Cryptocurrency Exchange Services in UAE
Blockchain Development
Peer to Peer Exchange Development
Cryptocurrency Wallet Development
Smart Contract Development
Token Development
We Bitdeal, the professional innovative team aims to implement new technologies in all services for our customer needs. Our team is known for providing meticulous services and in-depth knowledge. If you are planning to start a Cryptocurrency Exchange Development in UAE, we are ready to assist you!
Get a Free Quote to Start Your Own Crypto Exchange In Dubai
​
---
To know more details
Whatsapp: +91967755651
Mail: [email protected]
Telegram : +91967755651
Click here to join us in Skype
cryptocurrency exchange development company