What Is White Label Cryptocurrency Exchange Software? : Beginners Guide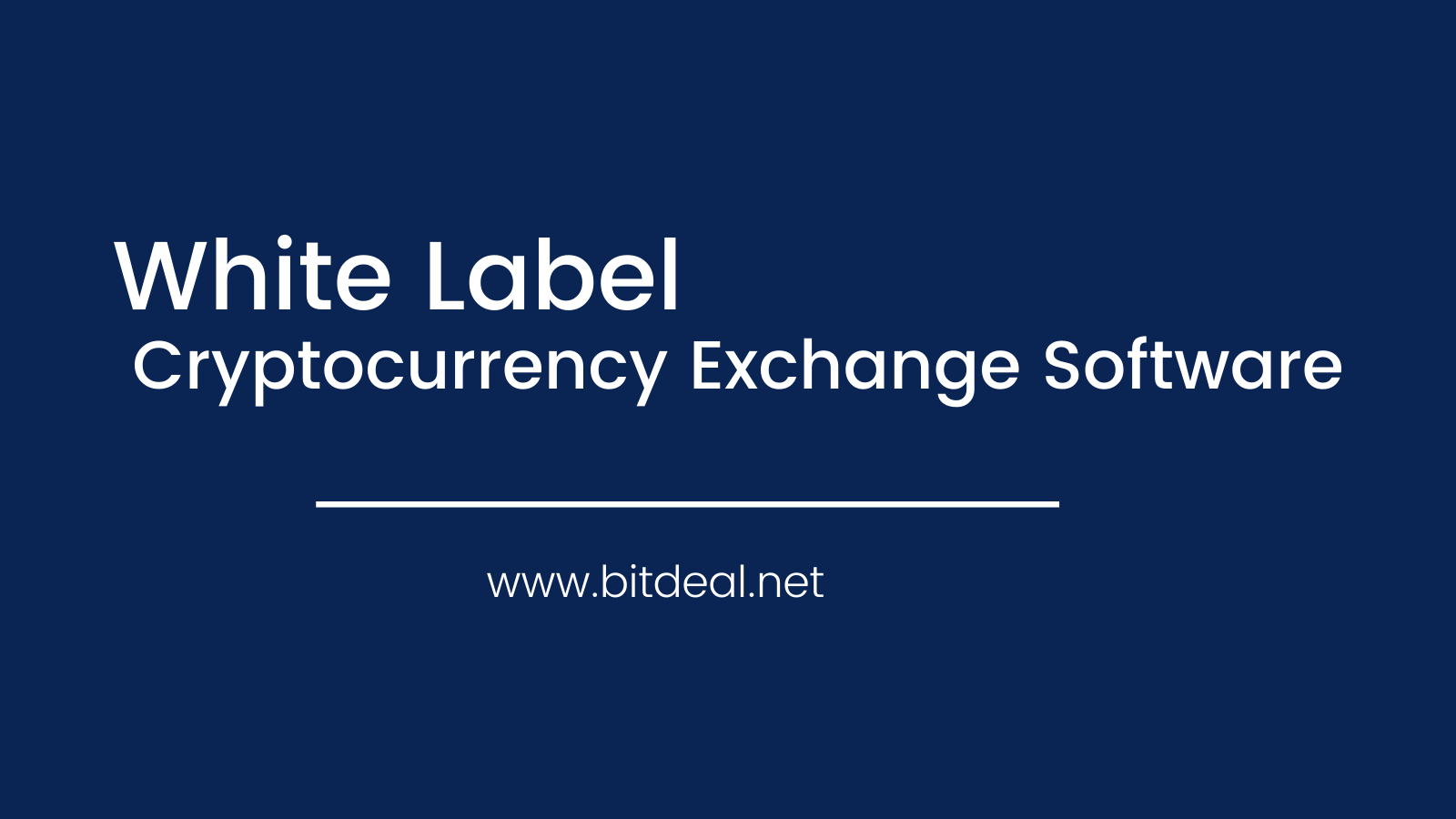 Crypto Industry, The most prominent, ferocious, and fast-growing sector ever in the market. The market capitalization is estimated as 3 billion USD in the year 2020 and Experts say that the market value would tremendously rise to 39.7 billion in the year 2025 and the resultant Compound annual growth rate surprises the world with 67.3 %. We already witnessed the majestic Growth of cryptocurrency exchanges for the past few years. Many business people wanted to print their foot in the crypto industry by starting their own Cryptocurrency Exchange in this crucial time. Many Crypto exchanges have been launched, survived, became a brand and some have failed. The one thing that has enlightened many of the business goals and ideas to start a cryptocurrency exchange business is " A cryptocurrency exchange development".
As a cryptocurrency exchange development, Bitdeal Honours those who want to bing innovation and make a revolution in the cryptocurrency exchange industry, By providing our " White Label Cryptocurrency Exchange Software".
Take 2 minutes to fill up this form and we assure our experts will contact you within a business day.
This exclusive article is clearly gonna sum up, what is white label cryptocurrency exchange software, how to develop and deploy it to start a cryptocurrency exchange platform.
White Label Cryptocurrency Exchange Software
A White Label Cryptocurrency Exchange Software is a ready-made cryptocurrency exchange software package constructed with the combination of multiple trading application software, API's and standard programming codes.
In business terms,
A white label cryptocurrency exchange software is ready to launch bitcoin exchange software, which can deploy a fully functional, feature-rich, advanced as well as secured cryptocurrency exchange platform where anyone can buy, sell or hold bitcoins or other cryptos in exchanges of fiat or cryptos. Using this ready-made white label cryptocurrency exchange software budding entrepreneurs can kick start their own cryptocurrency exchange in one shot with no back paining efforts. Usually, this kind of software will be encrypted with advanced security features with great concern to provide a hack free environment. Based on the requirements this white label cryptocurrency exchange software can be customized to deploy a peer-to-peer crypto exchange or Peer To Admin Exchange, Centralized Exchange.
Only a few cryptocurrency exchange development companies offer full source code, and for every upgrade, you may need to charge. But at Bitdeal we never ask for profit sharing, the exchange software you purchased from Bitdeal will be completely your own.
We offer bug fixes and feature-rich white label cryptocurrency exchange software which won't require further customization and you can launch your own cryptocurrency exchange in just 48 hours. Here are the further details, security features, and deployment guide of Bitdeal's white label cryptocurrency exchanges software.
Security Features Integrated in White Label Cryptocurrency Exchange Software
Security matters a lot when it comes to the Cryptocurrency Industry. How Secure are my assets? Is the first ever question that comes to every trader's mind. Any enterprise can gain traders' trust by showcasing their strong security features.
Some of the security features integrated in the white label Cryptocurrency Exchange Software are
Escrow Protection
Escrow Protection is the much needed feature to be integrated in cryptocurrency exchanges for highly secured transactions. In P2P Crypto Exchanges, all the transactions comes under the control of escrow wallet.
Two Factor Authentication
It is the two step verification factor, here users provide two different verification methods to verify themselves before login to the account.

Time Lock trading features
It is the kind of feature that allows traders to proceed with trading in the particular time limit, this reduces the chances of hack and theft
Google Authentication
For Enhanced security, OTP is sent to registered mobile number or invitation link is delivered to users gmail id
KYC
Know Your Customer and AML integration helps you to prevent your exchange from scammers
Registry lock
Registry Lock is the highly secured feature that lets the owner lock domain information. It does not let hackers to access your domain
Anti DDos Protection
Distributed Denial Of Service is the kind of trick followed by hackers to gain control over the platform by increasing the traffic of the website by numerous fake visitors. One can get rid of it by installing Anti DDos Protection in their site.
Trading Features integrated in White Label Cryptocurrency Exchange Software
This White Label Cryptocurrency Exchange Software is integrated with advanced trading features for sophisticated trading.some are listed below
Multiple Cryptocurrency Wallet
Multiple Cryptocurrency Wallet that would support 100+ Cryptocurrencies so that traders can buy or sell any kind of Cryptocurrencies
High speed Transaction
The Transaction speed would be in minutes, it saves lots and lots of traders time and makes them convenient.
Crypto Staking
This feature lets traders to hold their Cryptocurrencies in the wallet and make them earn just by that. Many leading Cryptocurrency Exchanges incorporated this feature in their crypto exchange.
Derivative Trading Features
Derivative Trading Features like Perpetual trading, Futures Trading, Options trading are integrated with this software package to enhance the trading methodologies of the traders.
Ad Posting Feature
Buyer or seller can post an ad in the exchange with details like the quantity of cryptos, price, payment option, etc. This feature eventually increases the possibility of buying and selling thus increases the trade volume of the exchange.
Private Messaging
By making use of this feature, traders can chat in private so that they participate in trading effectively with better clarification.
Splitted Trading
Splitted Trading is supported in Centralized Exchanges, it allows traders to sell their cryptos in bulk by splitting it among different buyers
Multiple cryptocurrency 'pairing
This let traders choose cryptocurrency trading pairs as well as their desired cryptocurrency for fiat currency
Components Of White Label Cryptocurrency Exchange Software
Various Components are integrated in the White Label Cryptocurrency Exchange Software to Fortify it, the few are listed below.
Cryptocurrency Wallet
Trade Matching Engine
Launchpad
Chat Bot
Secured Admin Panel
UI/UX design interface
Integrated Dashboard
Integrated CMS Module
White Label Cryptocurrency Exchange Software's Technology Stack
While Developing Cryptocurrency Exchange many developers as well as business owners concerned a lot about implementing technologies. One can develop cryptocurrency exchanges in any kind of frame work like php, python, java, angular js, Node JS, etc,
Some want to launch their Cryptocurrency Exchange Mobile App, for those people Reactive native would be the perfect choice to launch their app in Android as well as IOS Platform.
Where to Get White Label Cryptocurrency Exchange Software?
White Label Cryptocurrency Exchange Software is widely available in the market but choosing the best is very much important. One can buy it in a Cryptocurrency Exchange Development company and customize the script within a day and launch your own Cryptocurrency Exchange, thus this is the basic ingredient for your business . your job is literally half done once you find the best Cryptocurrency Exchange Software Development Company
Remember, only the right company could provide you the right services under deadlines.
Check out these things before choosing the company to buy white label cryptocurrency exchange script
Experience
Their Clients Feedback
Do they serve your business model?
Do they provide support after deployment?
Does their cost suit your business model?
How To Deploy White Label Cryptocurrency Exchange software?
Before the product deployment, it needs to pass out various process such as
Bug Fixing
It is the first ever testing process before the product deployment, In this process they have taken several methodologies to identify the bug, Once the bugs are identified and cleared. The product is moved to the Demo Test.
API Integration Test
Software is nothing without API. The Individual functionality of every API is much important and it defines the efficiency of the product.
UI/UX Testing
UI/UX Testing such as working of navigation bars, buttons and the level of user convenience are tested
Demo Test
Once the Product has passed all kinds of test such as Bug fixing test, API Integration Test, UI/UX test, it comes for demo test here, the product is tested as the whole
Trade Testing
Trade testing is conducted with minimum number of people to check how the entire trading process works, In this process, numerous factors are checked form registration of users from payment transaction
Beta Version Testing
Beta Version Testing is the final stage of testing, Here we can validate the usability, reliability, and functionality of the product.
What Is the Cost Of White Label Cryptocurrency Exchange Software ?
The cost of the White Label Cryptocurrency Exchange Software ranges between 3000 USD to 6000 USD completely based upon the factors like API integration, Features Integrated, Technology used in the development process, etc. The cost could widely vary depending upon the Development company. At bitdeal we also provide premium white label cryptocurrency software with all the advanced trading features which does not require customization.
Who We Are?
Bitdeal is the reputed Cryptocurrency Exchange Development Company provides all kinds of services like blockchain development, DEFI Development, MLM Development, Smart contract development, etc with the motto to bring technology revolution in the crypto industry. Being the early bird in the industry, we never delayed to analyze the trends in the crypto market and cope up with it.
With our promising software and scripts, we have uplifted many startups as the standard Cryptocurrency Exchanges and have happy customers all over the globe.
cryptocurrency exchange software
White Label Cryptocurrency Exchange Software
white label bitcoin exchange software