Start a Conversation
Hi! Famitha is waiting to talk with you! Let's chat on WhatsApp
The team typically replies in a few minutes.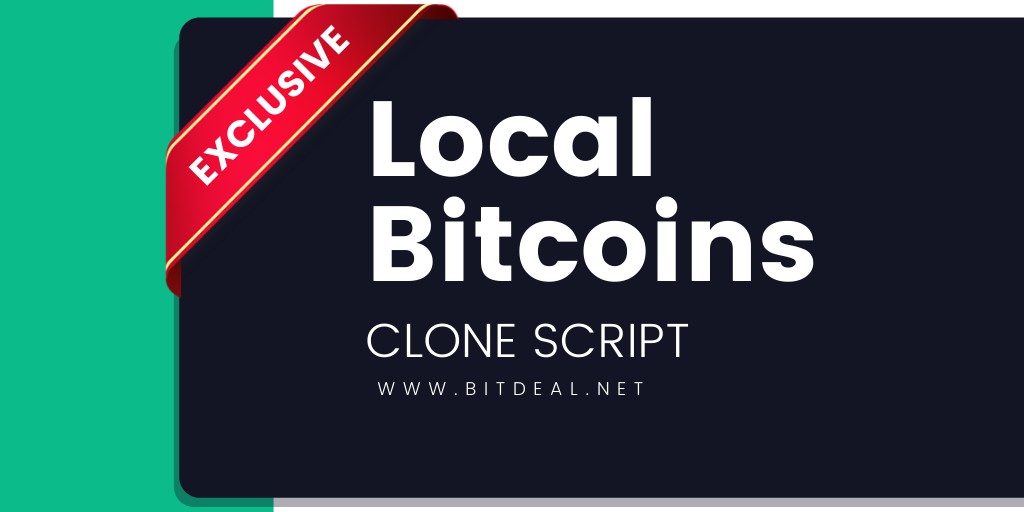 LocalBitcoins Clone Script to start P2P exchange like LocalBitcoins
LocalBitcoins Clone Script
It is a website clone script that consists of all the existing features and works as like LocalBitcoins Exchange. You can start your own bitcoin trading platform as like LocalBitcoins with LocalBitcoin Clone Script.
Bitdeal - Leading Cryptocurrency Exchange Development Company furnishes the best LocalBitcoins exchange clone script to start your own bitcoin exchange platform as like Local Bitcoins.
LocalBitcoins Clone Script Features
Source : Bitdeal Boards about LocalBitcoins Clone Script on Pinterest
LocalBitcoins is popularly known for its Online/Offline Trades, powered by escrow concept. Creating such kind of p2p crypto exchange with an upgraded premium localbitcoins clone script will make your exchange business unique among competitors.
Here is the list of our LocalBitcoins Clone Script Premium Features..
Secured and Privated Buy, Sell Features
Escrow Integrated
Integrated Cryptocurrency Wallet
Ad Based Trading
Online/Offline Trade
Smart Contracts Powered Decentralized Trading
Token Listing
Chat Bot Integrated
Quick Buy, Quick Sell Features
100+ Cryptocurrencies supported
Futures Trading
Referral Options
Supports Token Trading
Margin Trading
OTC Trading
Multi-Lingual
Multiple FIat-Crypto Trading Pairs
Dispute Resolution
KYC/AML Integrated
Two Factor Authentication
Advanced UI/UX
Private Messaging
Proximity match
Admin,Ads, Merchants, Buyer& Seller Dashboard.
Live Demo
Security Features
Liquitidy API
REST API
Trading Bot API
Price Ticker API
Market Order API
LocalBitcoins Clone Revenue Model : Admin
Trade Commission
Withdraw Commission
User Rating
Ads Calculation In Both Side
Temp Status
Max and Min Check
Chat Set in Node.js
LocalBitcoins Clone Script Free Demo
Check out the free live video demo of our premium localbitcoins clone script, this short video is showcasing only the basic features, if you want to check the full video you can check it at bitdeal by contacting our representative via whatsapp, skype, telegram, or via direct mail.
What is LocalBitcoins?
LocalBitcoins is the leading Peer to Peer Bitcoin trading platform with no KYC for buying and selling of bitcoins. LocalBitcoins works follow Escrow Concept for the trading of bitcoins on this platform. It also facilitates over-the-counter (OTC ) trading of local or fiat currency for bitcoins.
To know more about the Bitcoin Escrow Concept, just have a look at our article : Bitcoin Escrow Script To Start Escrow Service Like Bitrated.
LocalBitcoins allows you to sell, buy and manage bitcoins on bitcoin wallet both in online and offline ie., hardware and software wallet storage available.
Headquarters: Helsinki, Finland
Founder: Jeremias Kangas
Year: June 2012
Countries Supported: More than 248 countries including the United States.
How does LocalBitcoins Work?
Here is the explainer video that explains, how to buy bitcoins via the p2p exchange localbitcoins.


Let us have an overview on working of LocalBitcoins or the steps to be followed while trading on LocalBitcoins.
1. First of all, the seller has to create an online sell bitcoin advertisement which allows him/her to choose payment methods, set pricing and terms of the trade as a free message.
2. The customers are able to open or send trade request from your sell advertisement, only when your localbitcoins wallet is funded with bitcoins. Thus next step after creating the advertisement is to fund your wallet with required bitcoins.
3. When a customer/buyer opens a trade from your advertisement with you, then the required amount of Bitcoins for the trading process will be taken from your localbitcoins wallet to escrow automatically.
4. Once the buyer has paid and pressed the I have paid button then you will be notified via e-mail, SMS and on the website through which the payment has been done.
5. After your confirmation on receiving the payment, the bitcoins from the escrow moves to the localbitcoins wallet of the appropriate buyer.
6. The final step allows both buyer and seller to place feedback. Hence, Feedback is important in order to gain the reputation of both buyer/seller and exchange platform too.
Get complete overview of trading process in LocalBitcoins Here !!

---
How To Start a P2P Escrow Exchange Like Localbitcoins?
Creating an exchange like localbitcoins, must need expert involvement. We have attached a special and exclusive requisition option to claim a free demo for our localbitcoins clone script, bitcoin escrow script. Based on the details you provide our representative will reach you within 24 hours, to describe everything regarding how to start an exchange like localbitcoins.

---
Reasons to Start an Exchange Like Localbitcoins
Highlights of LocalBitcoins Exchange
1. The largest P2P Bitcoin trading platform with over 1 000 000 registered users and trade volume of $11,325.37 USD which has a global marketplace.
Source : CoinMarketCap
2. LocalBitcoins supports more than 248 countries to Buy/Sell Bitcoins with their local currencies which does not require verification of KYC.
3. LocalBitcoins.com is de-centralized, ie., you can make a trade directly with another person without the involvement of admin or third parties.
4. LocalBitcoins allows users to buy and sell bitcoins through the process of posting an advertisement on website along with trading rates and payment methods.
5. The notable thing in LocalBitcoins is reputation and feedback mechanism for finding and filtering trustworthy traders on the exchange.
6. Users of LocalBitcoins are free to fix their own price and limits for their trading, ie., no limits for buying and selling of Bitcoins.
7. LocalBitcoins supports for a wide range of the payment methods, in which Cash Deposite is the most popular method of payment.
8. ID Verifications or any other KYC information verifications are not required in LocalBitcoins other than an email address to signup/Login. Only some buyers or sellers may request identification before trading.
9. The payment method has an effect on the speed at which your bitcoins are available.
Buys made with Cash Deposit payment method delivers bitcoins within an hour.
Most of all, In-person cash trades are easier and faster to organize.
10. LocalBitcoins charges a 1% fee on all trades. Fees may vary in accordance with the payment methods.
11. Customer Support systems are available to help traders on time of exchanges in the site.
The email support system is also present, to support traders through mails.
LocalBitcoins also provides forum platforms where you can place your queries and their experts will clear you with support.
12. Dynamic pricing system with hundreds of sources that ensures the prices you made are always up to date.
13. LocalBitcoins contains API that allows you to make your own trading applications to an automated one.
14. The trading services on LocalBitcoins adopts Escrow Protection which provides the safest platform for both buyers and sellers.
15. Overall, LocalBitcoins is one of the largest P2P Bitcoin Exchange Platform which allows for an easy and quick way to buy and sell bitcoins.
How Bitdeal Can Help You?
We, Bitdeal - Leading Crypto Exchange clone script provider offers the clone scripts of top exchanges to start your crypto exchange as like LocalBitcoins, Poloniex, Coinbase, Binance and lot more.
We develop and deploy the best LocalBitcoins clone script with wide payment methods, additional trading features,multi-currency and multi-language support and lot more to stand best in the crypto market.
Having an idea to start your own bitcoin exchange platform as like LocalBitcoins? Then, buy the LocalBitcoins clone script from Bitdeal Now !!
Book a live demo for LocalBitcoins Clone Script at Bitdeal Now !!
Disclaimer: Bitdeal never has control over the LocalBitcoins and their trade mark, also we are not doing any promotional activities for them . We are using the term "LocalBitcoins" for easy understanding and identification. Our products and services are not mean to harm any organization or individual.
clone script
bitcoin exchange script
localbitcoins clone script