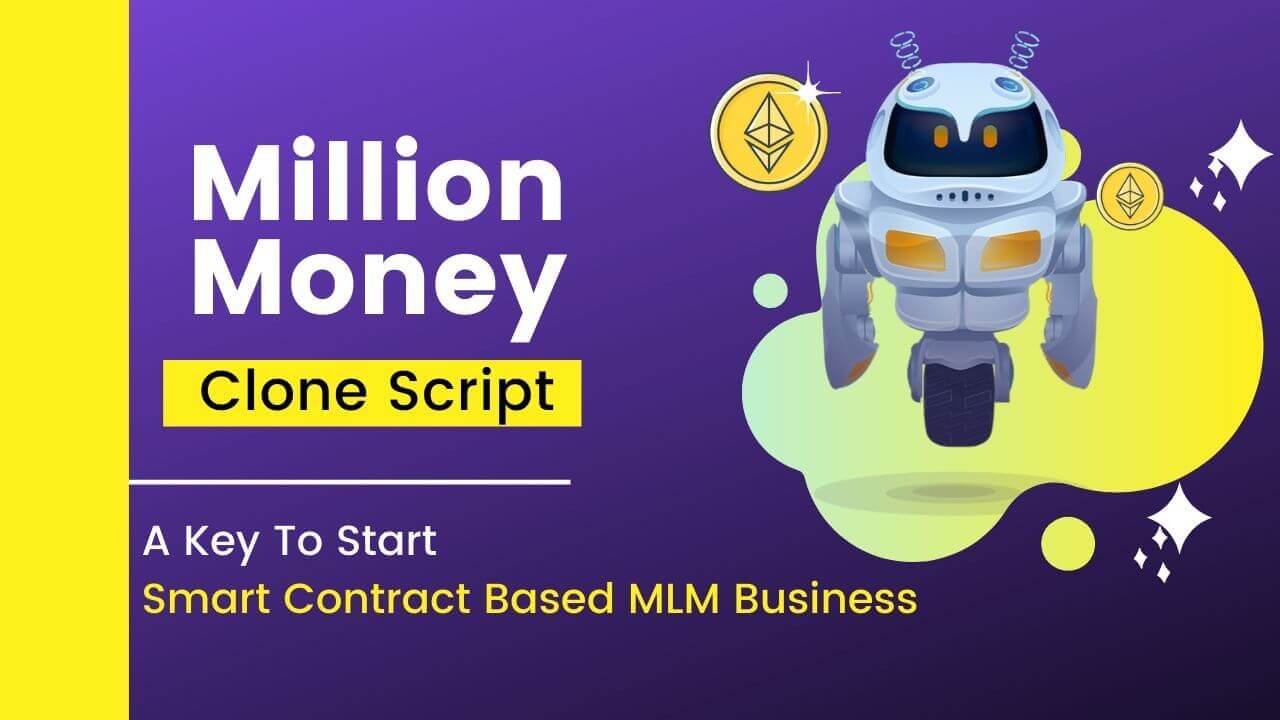 Million Money Clone - A Key to Start a Trusted Smart Contract Based MLM Business
Million.Money MLM Clone Script
Million Money MLM clone script - it is a smart contract based MLM clone script, that could create an MLM website by having an ethereum based gifting scheme as the core business model. This million money clone script can help you to make a decentralized automated, trustworthy blockchain MLM business like million money, with ethereum smart contracts.
Do You Want To Start a Smart Contract MLM Business Like Million Money?
​Here you go, we provide you the fully tested, trustworthy million money clone script, you can get a exclusive free demo here
Get A Demo To Start a Smart Contract MLM Like Million Money!
What is Million.Money?
Million.Money is a recent smart contract based MLM Business website that runs based on ethereum smart contracts. This website guarantees that joining million.money can afford an MLM member to acquire 1500 ETH every 100 Days.
How Million.Money Works?
The core business model of Million.Money is Multi-Level Marketing but inspite of following traditional MLM, this website follows smart contract based MLM. This website claims that the distribution of incoming transfers among participants is run under a specific smart contract algorithm written on the ethereum blockchain.
Also, the website claims that there is no administrator, hence it is fully decentralized, under the smart contracts. No one has the rights, or privileges or access to delete and manage the uploaded smart contract coding.
The Compensation Plan Of Million.Money
The compensation plan works based on the Binary Plan. As the downline increases, you will be paid by the members. So, to join in the tree, one should buy a level from the affiliates. The purchase cost differs based on the level.
Simply saying this is a 2X5 matrix gifting scheme. So, the scheme is designed to generate a new cycle after every five levels, and each level will be expanded by subscriptions of two new members at each node.
Check out the image to understand the levels and the subscription cost, and working flow.
Binary MLM Tree Structure
Cycle 1
Cycle 2
Profit Table
source : million.money
Pros and Cons of Million.Money ?
Pros
Completely Decentralized - No Admin Can Control Money

Easy Downline Making & Network Creation

Real-Time Payout

Members can view the process and the level where they are

Secured under Smart Contracts
Cons
No assurance for the permanency of the website

Risk Happens If not properly monitored

If you missed out to buy level on time, then it will go up to the upline.

No proper details about the owner.
Is there any opportunity to start a smart contract based MLM business like Million.Money?
Obviously yes! The cryptocurrency industry has been heated after the hike of bitcoin price. This will be the most positive time for investors to invest more in bitcoin,ethereum or any other cryptocurrency. Starting a smart contract based MLM could be the best option to gain more profit in a short time, and it will be a riskless business opportunity than any other cryptocurrency business-like exchange or trading.
Bottlenecks in Starting a Smart Contract Based MLM Business like Million.Money
An MLM business is nothing without the involvement of trustful members, So to expand the network people have to believe there is no risk and must be free to join the system. Here are some of the drawbacks which make a cryptocurrency based MLM business to fall under a meaningless risk.
Fault information, that is relating cryptocurrency MLM business with Scam systems

No proper awareness of quick profit earning.

The fear of Investment in cryptocurrency.

No proper knowledge about smart contract based MLM

Fear of hacks and losing money.
So, What is the Solution ???
Smart Contract Based MLM - A Solution to Free the MLM Businesses From Risk
Smart contracts are fully encrypted and are automated under a properly written blockchain algorithm. Hence MLM Business With Smart Contracts are 100% Secure, Hack Free, Decentralized, provides promises for no loss of money and easy claiming of profit directly from the smart contract system automatically.
If smart contracts can empower the MLM business, then there is no chance for MLM business owners to scam its members.
How to Start a Smart Contract Based Website Like Million.Money ?
One can start an MLM business like Million.Money along with the use of a fully decentralized Million Money Clone Script. More over we have included some key points that you should keep in your mind while starting a MLM business like million money.
Key Points to Start a Better MLM Business than Million Money
If you have a desire to start MLM business better than Million.Money then you should consider the below points.
Properly register the ownership and contact details of your business to generate trust among people

Create awareness about the smart contracts based MLM

Create a proper reputation along with the proper information which should explain the business model.

Ensure the security and be transparent to your customers.

Make your website 100% hack free

Proper monitoring of each transaction under smart contracts.



Contact Us
Our experts are ready to guide you on starting a legal smart contract based MLM business. Reach our executives below, to get an instant live demo of our Million Money MLM Clone Script
Disclaimer: We are not the owner of Million.Money, and are not doing any direct promotional activities for them. Also, we are not doing any business dealing with "million.money". We sell only smart contract based MLM scripts. Only for the better understanding and easy identification we use the term "million.money".
Smart Contract Based MLM
fomo5k mlm clone script
million money mlm clone script