OpenSea Clone Script - A Solution To Launch Billion Dollar Worth NFT Marketplace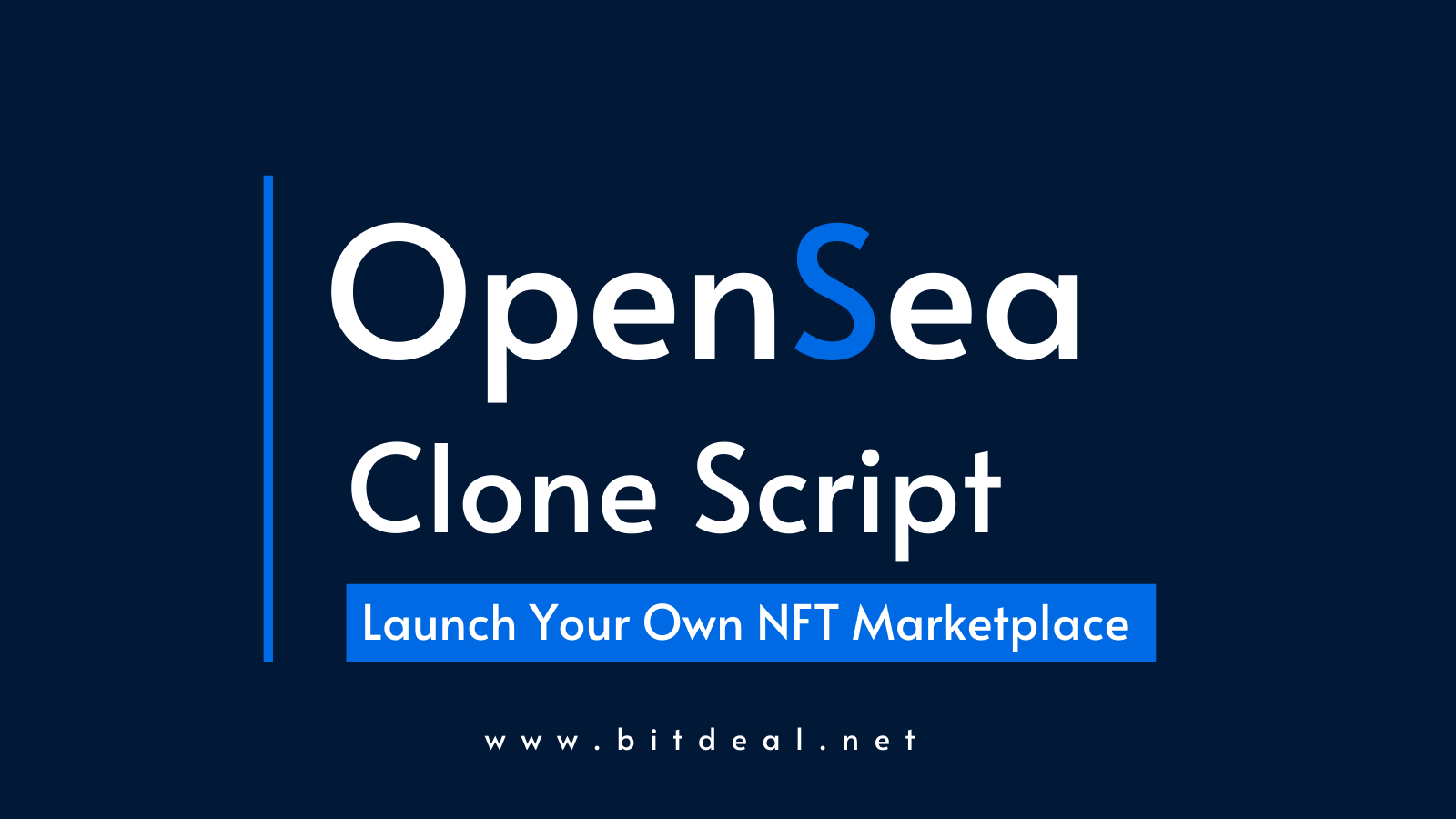 OpenSea Clone Script
OpenSea Clone Script is an NFT Marketplace Clone Script built on the decentralized blockchain network which can be used to launch your own Peer to Peer NFT marketplace like Opensea that supports for exchange of crypto goods such as collectible, art and domains., etc.,.
OpenSea Clone Script is a decentralized source code that replicates all the functionalities of a famous P2P NFT marketplace, OpenSea. We develop and deploy OpenSea like NFT Marketplace on any blockchain network such as Ethereum, Binance Smart Chain, and more.
Ready to launch your own NFT Marketplace like OpenSea? Get Power-packed OpenSea Clone Script from Bitdeal and launch it instantly.
Specification of Our OpenSea Clone Script
Type : NFT Marketplace
API: All listing, exchange, and security APIs Integrated
Latest Version : OpenSea Clone Script 2.0 (Updated in 2021)
Blockchain: Build on Binance Smart Chain (BSC)
Supported Token Standards: ERC 721, ERC 998, ERC 1155
Supported Crypto Goods: Collectible, Games, Domains, Arts (Customizable to requirements)
What is Opensea?
OpenSea is the popular and first built Peer to Peer NFT marketplace that offers a way to buy, sell, trade NFTs, It is the biggest marketplace for digital goods such as collectibles, arts, domains, and more. It was founded back in 2018 by Alex Atallah and Devin Finzer by the inspiration from Cryptokitties.
Specialties of OpenSea Platform
♦ Supports for following Crypto Goods
♦ Gaming
♦ Collectibles
♦ Arts
♦ Domains
♦ Memes
♦ Posters
♦ Artifacts and more.
Why Start an NFT Marketplace like OpenSea?
Popular and No 1 NFT Marketplace
Automated users & NFT Statistics
Nearly 3,800,000 collectibles out of a sale
Easy to list NFTs and more.
Special Features of our OpenSea Clone Script
Our OpenSea Clone Script contains all the features and functionalities of OpenSea.
Listed here are some of the major features of our OpenSea Clone Script.
Various API Integration
Simplified Architectural Design
Options to list NFT assets
Crypto Wallet Preference Specifications
Inbuilt Escrow Activities Specifications
Ultra level Security
Market Offer Tracker
Efficient Categorizing Mechanism
User Activity Tracker
Other Assets Listing
All NFT Tracking and more.
Supported Token Development Standards
⇒ ERC 721
⇒ ERC 998
⇒ ERC 1155
Special Characteristics of Our OpenSea Clone Script
Listed here are the most common characteristics of all popular NFT marketplaces and that our OpenSea Clone Script also possesses.
Ownership
Complete control over each transaction of NFT tokens is offered since NFT owners are given separate private keys for accessing each NFTs.
Transparency
Offers transparency in recording the NFT tokens issuance, transactions, and all the activities of buyers to provide trust and also verifies the authenticity of particular NFT.
Uniqueness
All the NFT markets like OpenSea have unique characteristics and hold different values for each NFTs so that it is non-interchangeable. The information of each NFTs is being recorded with an authorized certificate of owners of NFT tokens.
Scarcity
The demand and scarcity of NFTs are the major reason for this attention of the NFT marketplace. The token creation into multiple NFTs is being limited to maintain the scarcity.
Indivisibility
The special characteristic of NFTs, non-fungible tokens, is that they can not be divisible like crypto tokens.
Interoperability
The users can buy, sell and trade NFTs across various NFT marketplace from anywhere in the globe by using decentralized bridges or any centralized service.
There are also other unique & special characteristics inbuilt in our OpenSea Clone Script.
OpenSea Clone Development
OpenSea Clone Development is a process of developing a decentralized peer-to-peer NFT marketplace like Opensea which supports crypto goods such as collectibles, arts, and any other gaming items.
We Bitdeal - DeFi Development Company after realizing the impact of NFTs and NFT marketplaces, started our service journey in the field of NFTs - Non-Fungible Tokens.
Our experts develop & deploy the best clones of best NFT marketplaces such as OpenSea, Rarible, Foundation, and more. Our OpenSea Clone Script helps you in launching your own NFT marketplace instantly.
Our OpenSea Clone Development Process
Our NFT marketplace experts carry out two types of processing to build OpenSea Clone Script.
MetaData API Processing
Through the process of MetaData APIs, one can develop, deploy, retrieve, modify, update or delete and customize the information or data as object definitions and page layouts as per the requirements of users in the NFT marketplace.
These APIs manage to customize with no changes in data and it is accessible to avail all the services on the NFT marketplace.
Conventional Processing
The development of OpenSea Clone Script through Conventional Process is a step by step method and have the following steps
Operable Token Selection
Development & Deployment of the creature using Solidity
Creation of Mintable Tokens
Config Set-up
DN file sourcing
Inclusion of Speed Phrase
Selection of Secondary Files
Network Deployment and
Token Creation
How Does Our OpenSea Clone Work?
Our OpenSea Clone Script executes the NFT trading process in the following working model.
Building of NFT Marketplace
Opening the built NFT Market
Executing through the crowd sale
Power In-app Ecosystem
Fetching up digital assets with APIs and more.
How much does it cost to start an NFT marketplace like OpenSea with Bitdeal's OpenSea clone script?
Launching your own NFT marketplace like OpenSea with Bitdeal's OpenSea Clone Script will cost you lower than preferring any other NFT Marketplace Development Company. We Bitdeal have skilled NFT Token Developers who can develop & deploy the best NFT marketplace with features as per your requirements.
Our developers offer OpenSea Clone Script with which you can launch your own NFT marketplace that offers easy buy, sell, and trade of digital assets as NFTs.
For a live demo of our OpenSea Clone Script and to know the cost of our OpenSea Clone Script with your required features, feel free to catch our experts anytime.
Why choose Bitdeal for NFT Marketplace Development?
As there are many companies who provide NFT Marketplace Development Services as their main role of services and among that list, why choose Bitdeal for your NFT marketplace development is the biggest query on your head?, Right?
Reveal the valid reasons behind choosing Bitdeal for your NFT marketplace development.
Survivor in the crypto market for more than 7 years.
Rescuer for many startups & enterprises to adopt Blockchain Technology.
Experts in offering all blockchain-related solutions & services.
The pool of NFT token developers.
Meeting the outputs beyond expectations.
Highly Expertise in building NFT marketplace.
Clone Development of Popular NFT marketplaces like OpenSea Clone Script, Rarible Clone Script, and more.
Installation support & Lifelong Technical Services
Transparency in the development process & easy communication about requirements.
World-class NFT Marketplace Development at an affordable cost than other service providers.
Then why still wait to launch your own NFT marketplace?
Purchase OpenSea Clone Script from Bitdeal and launch your own NFT marketplace like OpenSea and be the unbeatable one in the crypto market!
Get a free live demo of Bitdeal's OpenSea Clone Script now ! !