Start a Conversation
Hi! Famitha is waiting to talk with you! Let's chat on WhatsApp
The team typically replies in a few minutes.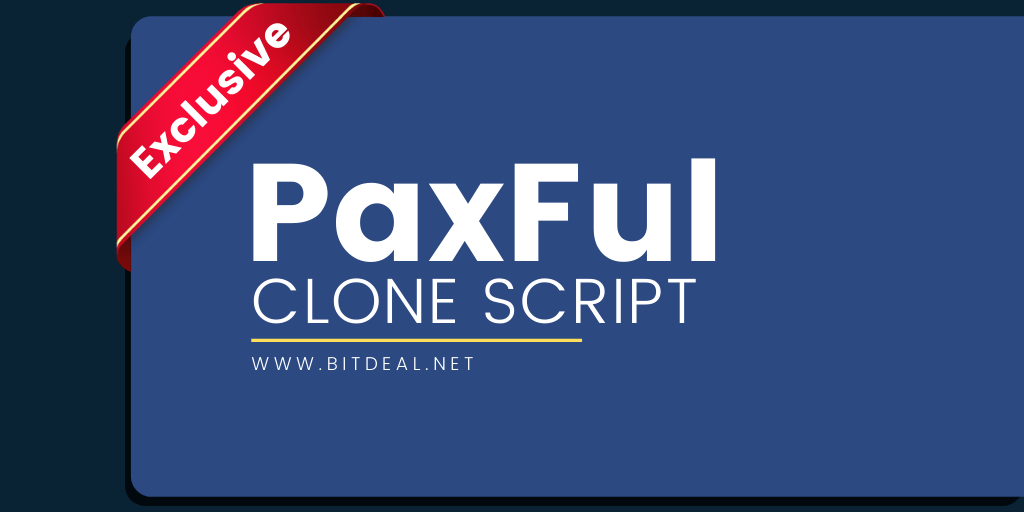 How to start a cryptocurrency exchange as like Paxful? | Paxful Clone Script
Bitdeal - Top-most Crypto Exchange Clone Script Provider, offers the best Paxful clone script to start your own cryptocurrency exchange platform as like Paxful. We develop and deploy the Paxful clone script with advanced features and plug-ins.
Paxful Clone Script
Paxful Clone Script is a clone of Paxful exchange website script and which contains all the existing features and security plug-ins as like Paxful. We, Bitdeal develop the unique Paxful clone script with more additional features to make you stand high in the crowd of competitors.
Here let us look at some of the special features and services that are furnished by Paxful to their traders and the best way to start your own exchange as like Paxful.
What is Paxful?
Paxful is a peer-to-peer, simple, safe, and fair marketplace for bitcoin exchange. The main motto of Paxful is to offer people over the globe an easy way to buy and sell bitcoin, the master of cryptocurrency.
Paxful seems to be the combination of PayPal and Uber which builds a global peer to peer payment logistics platform for the future crypto economy.
Founders: Ray Youssef, Artur Schaback
Year of launch: 2015
Headquarters: Delaware, United States
Why to start an exchange like Paxful?
Paxful, a predominant crypto exchange platform in the market provides the user an easy way to own their bitcoins. Paxful provides an escrow-based bitcoin exchange platform which makes it safer exchange.
Paxful offers many services to its users and they also offer many discounts. The most notable services by Paxful involves:
1. Affiliate Program
2. Virtual Bitcoin Kiosk
3. Paxful Wallet App and so on.
Let us list some highlighting features of Paxful, which makes you clear that why to start a crypto exchange like Paxful.
Highlights of Paxful
1. Paxful being the lead P2P Bitcoin Trading Platform supports for 24 X 7 exchanges of bitcoins with 100% escrow system.
2. Paxful is an exchange platform that allows its user to perform the following functions:
1. Allows for buying and selling bitcoins online.
2. Allows for the trading of bitcoins with a secure escrow system.
3. Provides a free wallet.
4. Allows you to build your reputation and earn a high income.
3. Paxful supports for more than 300+ payment methods which broadly falls under these six divisions.
1. Bank Transfer - By making a transfer from a bank account, you can buy Bitcoins. ( Supported World Wide )
2. Online Wallet - You can use online payment apps to buy your own bitcoins.
3. Gift Card - You have an option of buying bitcoins through gift cards.
4. Debit/Credit card -Paxful allows buying bitcoins through the use of debit or credit cards.
5. Cash - Direct purchase of bitcoins with your own fiat currency is possible.
6. Digital Currencies - Use your own crypto coins or tokens to buy bitcoins.
4. Paxful is a safe and secure platform for trading bitcoins as it provides 2-factor verification, escrow professionally audited security and highest level encryption.
5. Paxful also provides an instant live chat through which you can get the support of the experts of Paxful anytime anywhere.
6. The most important service offered by Paxful for their account holders is " Affiliate Program".
Paxful's Affiliate Program helps you to increase your profits by sharing and suggesting Paxful platform with friends, family, and followers. Instant Profits on each trade is possible through this program.
Tier 1 Affiliates: Earn 50 % on standard escrow fees for every trade.
Tier 2 Affiliates: Earn 10 % on standard escrow fees for every trade.
7. The Paxful's Affiliates Program allows you to transfer your affiliate earnings to your own wallet when your earnings reach the amount equivalent of $10.
Check out here How Does Paxful Affiliate Program Work?
8. Another interesting service of Paxful is "Virtual Bitcoin Kiosk" which is launched by Paxful for providing bitcoin to the masses.
To start using these services, there are only three steps to go.
Step 1: Sign up and get your link.
Step 2: Copy the link that you have received.
Step 3: Share your link and earn 2% on every sale.
This is easy and profitable to cash out your earning instantly.
9. Paxful provides "Paxful bitcoin wallet app " through which you can send, receive, and trade bitcoin anytime, anywhere.
You can send and receive bitcoin in your private bitcoin wallet and safely store them.
10. Paxful offers Easy Bitcoin API Server which makes it easy for all their users to trade safely.
What Bitdeal can afford you?
Bitdeal - Leading Cryptocurrency Exchange Development Company, aiming to provide best cryptocurrency solutions such as cryptocurrency development, cryptocurrency wallet development, cryptocurrency exchange script development, cryptocurrency exchange clone script development and lot more.
Our Experts are also well-experienced in developing and deploying the best blockchain-related solutions such as private blockchain development, dapp development, STO development, ICO development and so on.
We, Bitdeal offers the best Paxful Clone Script to start your own exchange as like Paxful and our Paxful clone script consists of the following in-built features:
1. Automatic KYC Verification
2. GDPR Compliant
3. Two-factor authentication with mobile-friendly UI.
4. 100% secured escrow wallet
5. 24 X 7 Instant live chat system and so on.
Get a best and unique Paxful clone script from Bitdeal to launch your own bitcoin exchange platform as like Paxful now.
Buy Paxful Clone Script From Bitdeal Now !!
Book a Live Demo of Paxful Clone Script from Bitdeal !!
Disclaimer: Bitdeal never has control over the PaxFul and their trade mark, also we are not doing any promotional activities for them . We are using the term paxful for easy understanding and identification. Our products and services are not mean to harm any organization or individual.
clone script
paxful clone script