Uniswap Clone Script To Create Your Own DeFi Exchange Like Uniswap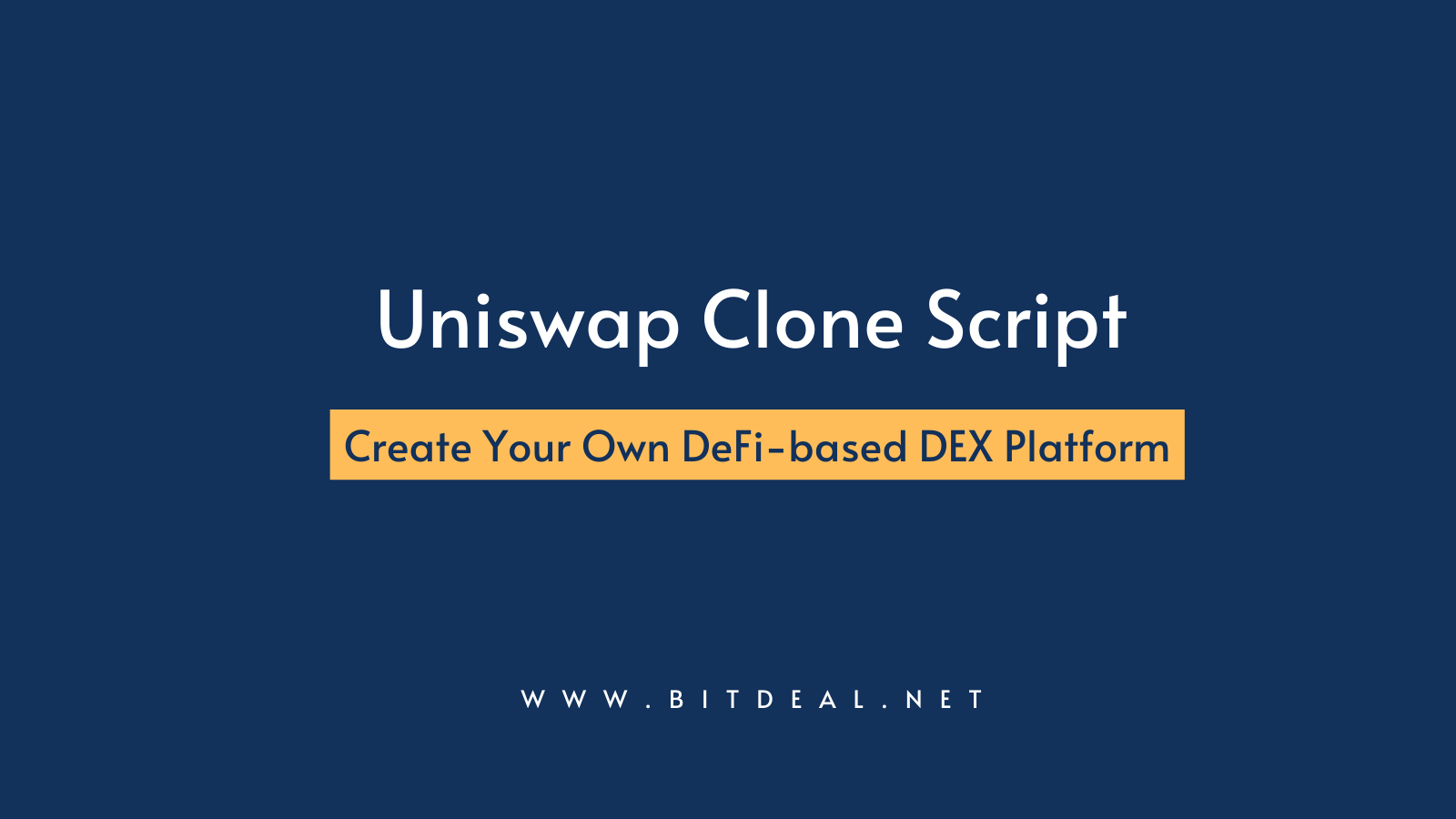 Uniswap Clone Script
Uniswap clone Script is a ready-to-launch, fully tested and bug-free decentralized exchange script, that can help entrepreneurs to host a DeFi based dex platform like uniswap on top of ethereum blockchain with a clean and Simple User Interface(UI). The ready-made uniswap clone script from bitdeal comes with both "swap and liquidity pool" Smart contracts that exist in the current uniswap DEX. Also, the script is made to support margin trading and spot trading for more than 100+ cryptocurrencies including ETH, and ERC 20 Tokens. The DEX exchange made of uniswap clone script can execute trades based on " Automated Market Making (AMM)" . Users/ Traders can easily swap or trade their desired cryptocurrency by connecting their web 3 wallets like Meta Mask, WalletConnect, Formatic, and Coinbase Wallet.
Whitelabel Uniswap Clone Script
Whitelabel Uniswap Clone Script assists anyone to launch their own DeFi Exchange Protocol like Uniswap instantly. We Bitdeal develop and deploy the Whitelabel uniswap clone script with features as like in the Uniswap and the script is completely customizable that you can add any functionalities or APIs anytime.
Uniswap Clone Script - Specification
Latest Version - Uniswap Clone V3 (Updated in 2021)
Script Type - Decentralized Exchange Script
Supported Cryptocurrencies - 100+ cryptos including BTC,BCH,ETH,XRP,etc.
Trading Fee Scheme - Maker : 0.30% , Taker : 0.30% ( Can be customizable)
API - Liquidity API's Integrated
Supported Trading Options - Spot Trading & Margin Trading
Token Swapping - ERC 20 & ETH tokens swapping supported
Smart Contract - Multiple Smart Contracts for each Coin Swap
What's New in Our Uniswap Clone Script?
Our experts develop Uniswap Clone Script as the updated version of Uniswap V3. As with the updated version of Uniswap v3, our Uniswap Clone Script also supports concentrated liquidity.
This makes our uniswap clone script launch the most efficient and flexible AMM exchange.
The benefits of launching your own AMM exchange like Uniswap with our latest updated uniswap clone script is as follows:
Highly Concentrated Liquidity
Better capital efficiency with less captial risk
Flexibility in fees
Always Active Liquidity
With Advanced Oracle
Perfectly Audited Smart Contracts
Integration of Bug Bounty Program
Presence of Non-Fungible Liquidity
Advanced Range Orders
Efficient Automated Market Maker and more.
Components of Our Uniswap Clone Script
Listed here are the components that one must integrate while creating a DeFi based Exchange Like Uniswap.
Bitdeal's Uniswap Clone Script consists of the following basic components
Token Distributor
Token Governance
Liquidity Pools API
Blockchain-powered with Consensus Mechanism
Cryptocurrency Wallets
Smart Contract
Exchange APIs
Payment Gateways
Privacy & Identity
Advanced UI/UX based user & admin panel
Security APIs and more.
Our developers are skilled in developing and deploying the Uniswap Clone Script with all the above-featured components.
Specialties of Bitdeal's Uniwsap Clone Script
We build uniswap clone scripts with the below-listed aspects and functionalities.
Integration of Direct Pooling
High Compatibility
Increased Sustainability
Money Yield Farming
Instant Swapping mechanism and more.
Uniswap Clone Script Features
Listed here are the basic features of Bitdeal's Uniswap Clone Script
Flash Swapping
In Uniswap clone one can make multi-step transactions which is known as Flash Swapping. This allows users to withdraw the reserves of any ERC 20 tokens.
Anonymous
Our Uniswap Clone does not require any KYC verification for trading. Instead it just requires public wallet address identification for trading directly with our wallet.
Lower Fees
Uniswap Clone also follows the Maker-Taker fees model which charges 0.3% from both taker and maker for each transaction on the platform.
Ultra Security
As the smart contracts of Uniswap clone is built on Ethereum blockchain and audited properly, and it is non-custodial, it provides high security as the protocols does not carry funds.
New Tokens
Our Uniswap Clone supports instant trading through which anyone can access new tokens. Users can create their own token and pair any ERC 20 token with ETH to create liquidity for new pools.
Own Custodian
The users of uniswap can keep their private keys for themselves, which means they are the custodian of their own tokens and assets, so that they can directly exchange them with high liquidity pools.
Listed here are the major features involved in Bitdeal's Uniswap Clone Script and software
Perfectly Audited Smart Contract
Swapping
Hardware Wallet Support
Liquidity Pools
Integrated Crypto Wallets
Addition of New Tokens/Coins
DeFi Staking
DeFi Yield Farming feature
Support for Multi-crypto trading pairs
Price Oracles and a lot more.
Uniswap Clone Script - Supported Cryptocurrencies
Bitdeal's Uniswap Clone Script support to trade and swap with 100+ cryptocurrencies, including the major crypto's as listed below
Bitcoin (BTC)
Litecoin (LTC)
Ethereum (ETH)
Ripple (XRP)
Bitcoin Gold (BTG)
Bitcoin Cash ( BCH)
Tether Coin (USDT)
Dash Coin (DASH)
And more.
Uniswap Exchange Clone Development
Uniswap Clone Script is a DeFi decentralized exchange clone Script that includes all the trading features and functionalities of the most popular DEX platform Uniswap. A full-featured uniswap clone script will be an ultimate requirement to build a DeFi based DEX Clone Exchange Like Uniswap. This Uniswap clone is built to completely work and functions like the Uniswap. We Bitdeal - Leading Cryptocurrency Exchange Development Company provides unbeatable Uniswap Clone Development services to launch your own DeFi based DEX platform like Uniswap and stand out in the crypto market with greater revenue.
Our cryptocurrency exchange developers are skilled in a way that they can develop and deploy the Uniswap Clone with all the premium trading features of a DEX Platform.
Our Uniswap Exchange Clone Development process involves the following :
Exchange API Integration
Smart Contract Development & Deployment
Liquidity Pooling Solutions
Cryptocurrency Wallet Integration
Advanced UI/UX designing
Payment Methods Integration
Bug Bounty Program
Integration of token listing
Affiliate Program Integration
Integrating Staking options and more.
How much does it cost to start a DeFi based exchange like Uniswap with Bitdeal's Uniswap Clone Script?
We at Bitdeal develop and deploy the Uniswap Clone Script with all the necessary features and plugins to make your exchange stand unique in the crowd. The cost range of our Uniswap Clone Script powered with basic DEX features will range from $7000 - $9000. The cost may vary according to your requirements to include features and plugins.
Why Choose Bitdeal for Uniswap Clone Script Development?
Listed here are the reasons to choose Bitdeal for your Uniswap Clone Development.
We have team of experts skilled in developing DeFi Protocols
We deliver all the projects on time
100% Customizable Uniswap Clone Script
End-to-End lifetime support
Audited and tested perfectly before delivery
Outputs beyond the expectation level
Affordable costs when compared to the other vendors in the market and more.
uniswap clone script
uniswap clone software
uniswap clone
uniswap clone development
create your own dex like uniswap
uniswap exchange clone