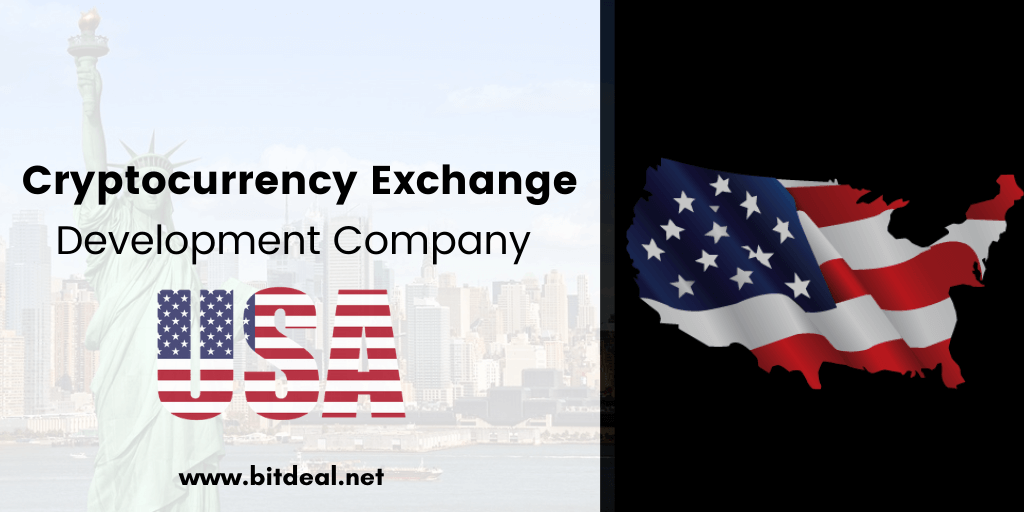 Cryptocurrency Exchange Development Company in USA
Bitdeal - Leading Cryptocurrency Exchange Development Company in the USA, offers the best cryptocurrency exchange development services, in and around the USA also in all borders of the globe.
Before knowing about why and how to start the cryptocurrency exchange business in the United States, let us first look at entry and growth of cryptocurrency in the US market, Cryptocurrency trends, regulation and taxation in the United States in detail.
Cryptocurrency is the most trending term on the recent air and most of the blogs, media, magazines are talking about this hottest topic. The cryptocurrencies are becoming inevitable terms among individuals as nowadays every trending news covers the benefits of cryptos.
Cryptocurrency Market In USA
As this trendy word cryptocurrency sounds loud in each and every country in the world, then how the USA will be alone an exception? Cryptocurrency has revolutionizing the US economy and also the use of blockchain technology has transformed US to higher standards.
As the usage of Bitcoins and other cryptocurrencies is increasing in the USA, there are a lot of possibilities for developing any crypto-related business. Many American companies such as Overstock, Microsoft, Subway,etc., had started accepting payments in digital currency which shows the awareness of cryptos among people in the US.
Cryptocurrency Trends in the USA
1. Binance CEO, Changpeng Zhao said " They going to launch Binance In USA With FinCEN-Registered Partner to bring the security, liquidity, speed and to serve the U.S. market with full regulatory compliance."
2. Most of the USA States such as California, Massachusetts, Washington, and New York started rolling out cryptocurrency regulations.

Here is an image that shows cryptocurrency regulations in various states of the United States.
3. On June 18th, 2019 in San Francisco, USA, Facebook unveiled an ambitious plan to create an alternative financial system that relies on a cryptocurrency called Libra.

Check out here the reasons why the United States Government will not ban Facebook Libra !!
4. To meet the requirements of USA regulatory, Binance is currently evaluating 30 coins to be listed on its U.S.-based platform which tends to challenge the dominance of existing market participants, such as Coinbase.
Source : TheBlock
5. Bitcoins serve as a Hedge against Political and Systemic Risk in the US and also for the shortage of global US Dollars.
Cryptocurrency Regulations in the USA
The virtual currency law that is applied for transactions of cryptocurrency inside the United States is known as financial regulation of cryptocurrency in the US.
The Internal Revenue Services ( IRS ) describes virtual currencies as a digital representation of value that functions as
1. a medium of exchange.
2. a unit of account
3. a store of value
which does not have legal tender status in jurisdiction.
The National Automated Clearing House Association (NACHA), moves almost $39 trillion and 22 billion electronic financial transactions per year through Automated Clearing House (ACH) which represents a claim to physical legal tender.
The U.S Congress has the power to regulate cryptocurrency as securities through its constitutional power to regulate interstate commerce. There passed many laws for cryptos regulations in the USA by SEC.
Check out the various acts and laws by SEC over US Cryptocurrency Regulations !!
Cryptocurrency Taxation in the USA
The cryptocurrency is a taxable assets in the United States from March 2014. The IRS has started treating cryptocurrency as property and requires complete monitoring of gains or losses upon an exchange of cryptos.
The IRS Notice 2014-21 which defines virtual currencies as property in the United States is liable to be taxable. When crypto brokers aren't required to issue 1099 forms to clients, the traders are required to disclose everything to the IRS or else face tax evasion charges. In the United States IRS,
Taxable transactions include:
1. Exchange of cryptos using fiats.
2. Using cryptos for paying of goods/services
3. Cryptocurrency to Cryptocurrency Exchange
4. Buying forked/mined cryptos.
Non-taxable transactions include:
1. Buying of cryptos using fiats
2. Using cryptos for donations for non-profit or charity.
3. Making cryptocurrency as a gift/reward for 3rd parties.
4. Transferring cryptos between wallets.
Why to start Cryptocurrency Exchanges In the USA?
1. Streamlined Regulations
The US's CFTC ( The Commodities Future Trading Commission ) has adopted the " Do No Harm " approach that describes cryptos as a commodity and allows cryptocurrency trading publicly with high security. The US Justice Department is coordinating with the CFTC and SEC for future crypto regulations which ensures effective consumer protection and more streamlined regulatory.
2. SEC Security Laws
Cryptocurrency exchange regulations in the United States and many federal regulations claim jurisdictions. In March 2018, the United States's major regulatory body, the Securities and Exchange Commission (SEC) stated that it was already planning to apply securities laws for both cryptocurrency exchanges and crypto-wallets.
Due to these regulations in the USA for Cryptocurrency exchanges, the United States is one of the safer and most benefited countries to start a cryptocurrency exchange business.
Top Crypto exchanges in the USA
Let us look at some of the famous and well-known cryptocurrency exchanges that are being viral among people of the United States.
1.Coinbase
Coinbase, the most famous cryptocurrency exchange that is headquartered in San Francisco, California, US , is a simple and user-friendly exchange that operates in the United States of America, Europe, Singapore, and Australia. Recently it has revamped GDAX to Coinbase pro that comprises of many new features and an updated UI.
Coinbase allows to buy/sell, bitcoins/cryptocurrencies with 1.49% charges for using bank purchase and 3.99% charges for credit and debit purchases. Coinbase is the best exchange for beginners and new crypto investors with low transaction fees.
2. Binance
Binance, the second most popular exchange that offers higher trading volume in the USA with several trading pairs. Binance headquartered in Hong Kong recently announced Secure Asset Fund for Users which took 10% of all trading incentives that the exchanges earn.
This exchange allows people in the USA to buy bitcoins/other cryptocurrency using credit cards and also has its own Binance coin that helps users to save high on trading fees.
3. LocalBitcoins
The third most used exchange by the USA is LocalBitcoins, which has its headquarters in Finland. LocalBitcoins is a peer-to-peer exchange that allows for trade of bitcoins between buyer and seller without the involvement of middleman.
LocalBitcoins offers an exchange platform with low transaction fees, rating and resolutions system, escrow system and lot more features with greater security.
There are also other famous exchanges that grab more traders from the USA, such as
1. Kraken
2.CoinSwitch
3. Bitstamp
4. Bittrex
5. Bitpanda and lot more.
Bitdeal - Cryptocurrency Exchange Development Company in the USA
We, Bitdeal - Cryptocurrency Exchange Development Company extend our cryptocurrency-related services in and around the United States. Undergoing a keen survey about cryptocurrency trends and the growth of crypto exchanges in the USA, our experts are started providing cryptocurrency exchange development services in the USA.
We have a separate Off-Shore Development Team and also on-site development team for cryptocurrency exchange developments. You can choose any kind of development team to complete your cryptocurrency exchange project on time.
Contact Bitdeal now for the development of a cryptocurrency exchange script to launch your own cryptocurrency exchange in the USA.
Get a free quote from Bitdeal Now !!
cryptocurrency
Cryptocurrency Exchange Script
cryptocurrency exchange development company in usa
cryptocurrency exchange development company