Pancakeswap Clone Script To Launch Your Own DeFi based Exchange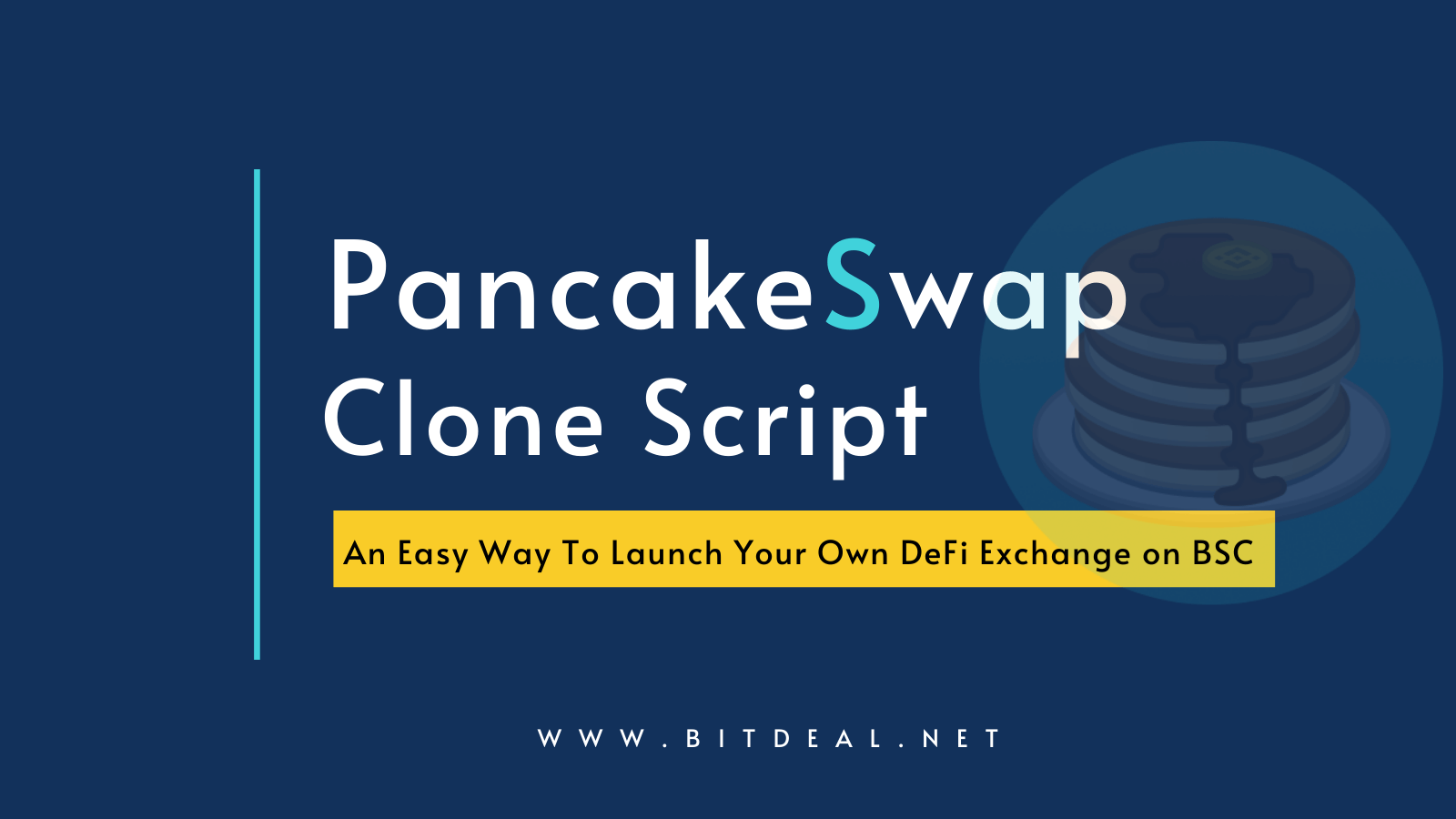 PancakeSwap Clone Script
PancakeSwap Clone Script is a decentralized exchange script that is built based on DeFi based open-source protocol, with which one can launch a fast, reliable, secured DeFi based DEX platform like PancakeSwap. The Smart Contract which processes the decentralized transactions on the platform launched with this PancakeSwap Clone Script is built on the Binance Smart Chain. Our PancakeSwap Clone Script is inbuilt with attractive features and plugins such as lottery, swapping, staking, farming, and more. As the script is built on Binance Smart Chain(BSC), it is included with BEP 20 token swapping support.
We Bitdeal develop & deploy PancakeSwap Clone Script that replicates all the functions as like PancakeSwap and the script is completely customizable and you can launch your own Food-Themed DeFi platform instantly.
WhiteLabel PancakeSwap Clone Script
WhiteLabel PancakeSwap Clone Script is a ready-to-launch decentralized exchange script that lets anyone immediately launch their own DeFi based DEX exchange like PancakeSwap.
Why choose White Label Pancakeswap Clone Script ?
A Whitelabel pancakeswap clone script is completely untied from serious copyright issues, so you can run your own defi swapping platform without facing any copyright infringements, also you can make your own brand and logo for your food theme based defi exchange like pancakeswap. The utmost benefit of choosing a white label pancakeswap clone script is the source and smart contract is entirely yours, so no one can claim for profit sharing.
At bitdeal our experts develop & deploy Whitelabel PancakeSwap Clone Script with N number of benefits such as technical expertise, money-saving, and time-saving launch, pre-tested smart contracts, and error-free with completely customizable options with easy to deploy feature.

Ready to launch your own DeFi based exchange like PancakeSwap?
Get Whitelabel PancakeSwap Clone Script from Bitdeal & launch your DEX instantly.
PancakeSwap Clone Software
PancakeSwap Clone Software is a complete software package built on Binance Smart Chain (BSC) Smart Contract to launch your own food-themed DeFi Exchange like PancakeSwap with inbuilt features and plugins such as swap, stake, farm, trade, and more.
Our Bitdeal's DeFi Experts are skilled in developing and deploying PancakeSwap Clone Software with highly customizable options to add security features and plugins and also other functionalities which can make you stand out in the DeFi Space.
---
PancakeSwap Clone Script - Specification
=►Latest Version: PancakeSwap Clone (Updated in 2021)
=►Type: Decentralized Exchange Script
=►Native Token: CAKE Token
=►Supported Cryptocurrencies: Stablecoins such as BUSD, USDT, DAI, LINK, and more.
=►API: Liquidity API's Integrated
=►Swapping Tokens: BEP-20 Tokens
=►Rewards per Block: 25 CAKE (Customizable)
Components of Our PancakeSwap Clone Script
Listed here are the components involved in our PancakeSwap Clone Script.
Smart Contract
Cryptocurrency Wallets
Payment Gateways
Identity and privacy
Blockchain-powered with Consensus Mechanism
Liquidity Pools
Security APIs
Exchange APIs
Swap Mechanism and more.
Specialties of Our PancakeSwap Clone Script
Supports for all Binance Smart Chain Wallets
Token Integration with no limits
IFO - Initial Farm Offerings
Lottery System
Non-Fungible Token Markets
Dynamic Staking
Various Trading Pair Support
Bug Bounty Program
Automatic BEP 20 token swapping and more.
Premium Features of Our PancakeSwap Clone Script
We deliver PancakeSwap Clone Script inbuilt with features that attract more users to the site and gain huge brand identification and revenue.
Listed here are the prime features that come along with our PancakeSwap Clone Script
Swap
Lets users swap BEP-20 tokens and earn native tokens CAKE
Liquidity
Allows users to add liquidity to the pools by depositing tokens
Farming
Users can stake and farm LP tokens to earn CAKE tokens as rewards
Lottery
Through which users can buy lottery and win rewards when the numbers of their lottery match with the winning lottery
NFTs
A special NFTs earning for users is created on the Binance Smart Chain (BSC)
Pools
Users can add liquidity to the pools by exchange/ staking of tokens
Exchange
Allows users to trade BEP-20 tokens and other tokens n the platform
Profiles & Teams
Lets users create profiles and join in a team and win as a team
Voting
All the users of PancakeSwap and holders of CAKE have the rights to vote for any corrections or updates in the exchange platform
Bug Bounty
A reward for the users who find the bugs or errors in the exchange platform as a whole. Other than the above-listed features, we involve many more trading and security features to make you stand unique in the crowd.
Prime Features of Bitdeal PancakeSwap Clone Script
Listed here are the in-built advanced features of Bitdeal's PancakeSwap Clone Script.
Automated Marketing Maker
Swapping Mechanism
Integration of Liquidity API's
Bug-free Smart Contracts
Yield Farming Mechanism
Staking Pools
Ultra Security APIs
Price Charts
Lottery System
Bug Bounty Program and more.
To know the complete features list, feel free to contact our experts anytime. Our PancakeSwap Clone Script is 100% customizable, that you can add or delete any features or plugins anytime.
Our PancakeSwap Clone Script - Supported Currencies
Listed here are the stablecoins that are supported in Bitdeal's PancakeSwap Clone Script.
LINK
DAI
USDT
USDC
TWT
BUSD and more.
---
How Does Our PancakeSwap Clone Script Works?
Working with the DEX platform that is being launched with our PancakeSwap Clone Script is simple & easy.
Initially click on MetaMask, Trust Wallet, or any Binance Chain Wallet.
Then unlock the wallet and Deposit cryptos that are maintained in liquidity pools.
The AMM assists users to pair buy/sell orders with an alternative account in the liquidity pools.
Earning of Liquidity Provider (LP) Tokens.
Staking the native token of PancakeSwap, CAKE will also bring rewards.
PancakeSwap Clone Development
PancakeSwap Clone development is a Decentralized Exchange Platform development that develops and deploys smart contracts built on the Binance Smart Chain (BSC) that performs DEX exchange functions like PancakeSwap Exchange. PancakeSwap Exchange Clone Development is the process of developing a ready-made PancakeSwap Clone Script to instantly launch your own DeFi based DEX platform that lets traders swap BEP-20 tokens.
We, Bitdeal - Leading DeFi Development Company offers popular DeFi Protocols clones such as Uniswap Clone Script, PancakeSwap Clone Script, Yearn.Finance Clone Script and more with attractive features and plugins.
Our PancakeSwap Exchange Clone Development Processes
Here are the development steps that we follow to create PancakeSwap Clone
Integration of Exchange API
Development & Deployment of Smart Contract
Crypto Wallet Integration
Advanced UI/UX Designing
Liquidity Pool Solutions
Integration of Payment Methods
Linking Affiliate Program
Options of Yield farming integration
Integration of Staking APIs and more.
---
How much does it cost to start a DeFi based Exchange like PancakeSwap with Bitdeal's PancakeSwap Clone Script?
Bitdeal, develops and deploys PancakeSwap Clone Script with all the mandatory features and even additional features based on your requirements to make your exchange grab more traders in a short span of time. To Know the cost range of our PancakeSwap Clone Script which is completely customizable, feel free to catch our experts anytime. This cost range may vary according to the features and your requirements.
How one can buy Pancakeswap Clone Script ?
Any innovative cryptopreneur can start a defi based DEX platform like pancakeswap with our Pancakeswap Clone Script.
1. Reach US
At first, reach us with your query
Or can speak to us instanlty via mobile and mail
Call / Whatsapp : +91 9677555651
Business Mail : [email protected]
2. Consult with our Experts
Our blockchain experts and business ideolgiests will reach you and explain clearly about the nook and corner of our script and ofcourse, you can negotiate about your desired business model and features.
3. Deployment
Once, things got fixed, we customize the script based upon your own requirements and can buy the script from bitdeal
Why Choose Bitdeal's Pancakeswap Clone Script?
We at Bitdeal has allocated a separate team to develop bug free pancakeswap clone script and its versions. from the early period of defi waves, we watch out the trends and started to pick the right market. We found the pancakeswap become an iconic defi exchange model. hence As a DeFi Development Company, we researched, studied, implemented and employed a separated team of smart contract developers who are expert in developing smart contracts on binance smart chain. We ensure our pancakeswap clone script is standard, free from vulnerability, free from security issues, and other manual errors via a complete smart contract audit.
Here are the other few reasons that could tell you Why launch a DeFi based DEX like PancakeSwap with Bitdeal's PancakeSwap Clone Script.
The pool of DeFi Experts
More than 6+ years of industry experience
Satisfied Clients across the globe
Delivery of Outputs beyond the expectation
Lifetime Technical Support
Customizable DeFi Clone Solutions
Transparent Development Process
Updates on each development steps
Options to Hire Our Experts Exclusively for your DeFi Projects
Affordable Price when compared to others and more.
If You Want to Know more about PancakeSwap, click here -> What Is PancakeSwap?
---
Ready To Launch Your Own DeFi based Exchange like PancakeSwap?
Get a Free Quote for PancakeSwap Clone Script from Bitdeal Now !!
Pancakeswap Clone Script - FAQ
Pancakeswap Clone Script is the complete package of decentralized exchange script entirely build upon DeFi based open source protocol. By using this script as the primary source, one can build their own look-a-like Defi based DEX Exchange like Pancakewap
Of course Yes! We Bitdeal have skilled experts in all kinds of Blockchain Technology, you can choose your platform's native blockchain network
Automatic Market Maker plays the most prominent role in pancakeswap and our script is encrypted with Automatic Market Maker, only then the Exchange works like the replica of Pancakeswap
Yes, We designed our script in a way to support all the features that pancakeswap offers and you can also customize the script features
You can reach us with this form - Contact us, our experts will reach out you with out 24 hours
If you need to connect instantly, You can use the below information
Call / Whatsapp : +91 9677555651
Business Mail : [email protected]