How to Create Crypto Trading Bot? | Crypto Trading Bot for Crypto Exchanges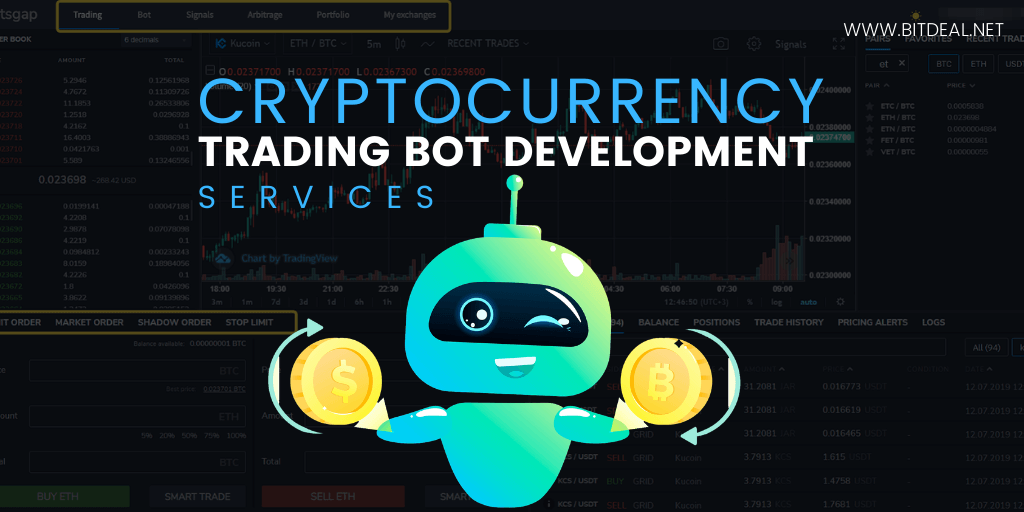 Bitdeal - A leading Cryptocurrency Exchange Development Company providing end to end cryto exchange development, cryptocurrency wallet development and Cryptocurrency Trading Bot Development Services at an affordable cost of purchase. Get cryptocurrency trading bot development services from bitdeal to create your own crypto trading bot application by filling up the below request form.
As the world moves faster with technology development and upgrades, people too run faster with smartness. Robotic technology, One of the most notable technological growth that cutoff human efforts by double and increases the overall output by triple.
We are in the era of cryptocurrency, where trading of crypto coins is becoming a passion among crypto individuals. Now, we are going to look after how robotic technology makes the process of crypto trading more smarter and more automated.
What is mean by Bot?
Bot, the short term of Robot is a computer program that automatically runs over the internet or web. There are also some bots which does not run automatically but requires some specific input signal to execute the mentioned tasks.
There are different types of bots present in our daily routine and some of the common bots include chat room bots, malicious bots, and web crawlers,etc.,
Crypto Trading Bots
As cryptocurrency and crypto trading becoming more popular among the people and also the application of robotic technology in every business processes made bots to enter into the crypto trading process.
Crypto trading bots are nothing but computer programs used for an automatic trading process. These bots use various indicators to recognize the trends in the market and make the best automatic trading execution every time. These bots quickly made their way to stay long in the crypto market.
Types of Cryptocurrency Bots
There are many types of crypto trading bots among which Arbitrage is one of the most popular types.
Arbitrage bots are a special kind of bots that examine the price of crypto coins across various exchange platforms and make the best trade in order to take advantage of discrepancies.
Why bots in crypto tradings?
Here are some of the benefits of using bots in the process of crypto trading.
1. Non-stop Trading
Global crypto trading markets are open for 24 X 7 and humans cannot trade for that much time as they have to sleep. So,cloud-based trading bots
2. Faster Execution
The price variations can happen in seconds within crypto markets as quickly as possible. So, an adaptation of Bots in crypto trading can automatically process and act on information that even human cannot.
3. Elimination of emotion in trading
Effective trading is achieved through planning rather running with gut feelings. Crypto trading bots eliminates feelings and react, trade only on the basis of data.
4. Backtesting
If you want to test a trading idea, you can use the bot as a backtest. In which you can test your strategies with historical markets. You can also paper trade, in which you use a bot to trade pretend money against the markets.
5. Ability to diversify
You can trade across various trading strategies and on numerous accounts using crypto trading bots.
How crypto trading bots work
The use of bots in crypto trading is so helpful, although there remains an ongoing debate. In order to use the crypto trading bots effectively, the investors should follow the below instructions or steps to trade.
First of all, the investors should have a proper account setup in any cryptocurrency exchange platforms. Then, they must stock their accounts with crypto coins holdings. In some cases, many users can make decisions like whether to buy or sell crypto coins. These orders can be executed by bots.
Every crypto trading bots eliminate the time and efforts that every trader put in to make trades success using a get-rich-quick solution. At the initial stage, each bot offers marginal returns even for correct functioning. Then, all bots are not properly designed so, investors should remember that all the crypto bot space is as unregulated as the crypto globe is also unregulated.
Then most important thing is for proper utilization of a bot, investors or traders need a deep knowledge of the crypto markets and an well-supporting investment plan. Since, for most of the investors, a bot may be a useful tool to trade crypto coins.
Top-Most Crypto Trading Bots
As days pass by, there are many crypto trading bots on their way to market which varies from free software to costly-subscription based trading bots for all professional and enthusiastic cryptocurrency traders.
The various factors that make all popular crypto trading bots to differ from each other involve profitability, usability, and quality. Let us have a look at some of the famous crypto trading bots prevailing in the crypto market.
3Commas
3Commas, a famous crypto trading bot that supports for automated trading of cryptocurrency on popular exchange platforms such as Binance, Bitstamp, Poloniex, Bittrex, BitFinex, Huobi, YoBiT, KuCoin, GDAX, and Cryptopia.
This cryptocurrency trading bot offers an easy-to-navigate online-based smart trading dashboard which has the in-built features such as an automated mean-reversion trades, trailing stop losses, accessing trade processes on supported exchanges, copy trading, set up to analyze and back-test model and lot more.
ZenBot
ZenBot , an open-source crypto trading bot found on GitHub which can be downloaded and coded by anyone for its up-gradation. The download and modification of ZenBot is completely free. It utilizes a technical analysis-focused approach to perform trading strategies with the support of multiple assets.
ZenBot enables users an extensive backtesting, high-frequency trade execution, and a paper trading function for real-time testing strategies.
Cryptohopper
Cryptohopper, a cloud-based crypto trading bot that performs trading for 24 X 7, even if the user's computer is turned off. This bot also enables users special features as like 3Commas which mainly involves an embedded external signaler, that allows new or inexperienced traders to let their bot trade on autopilot, the configuration of trading based on multiple indicators.
It also execute trades as recommended by trusted and ranked 3rd parties. Cryptohopper offers free trading for the first month followed by subscription packages from $19 to $99 per month.
Haasbot
Haasbot, a most famous cryptocurrency trading bot that plays an important role in the market today. It furnishes users, a candlestick chart pattern recognition with which users can combine it with many other trading signals and can develop advanced cryptocurrency trading strategies.
Haasbot allows traders to engage in arbitrage across various exchange platforms and also to protect their investments using stop-loss limits features. It is mostly supported by major Bitcoin exchange platforms with a feature to customize it in terms of execution of the trading process.
Autonio
Autonio, the first decentralized crypto trading bot which performs trading based on AI technology. It also has an easy-to-use trading software that benefits both new and professional traders.
It has a feature that combines a set of technical indicators to create trade signals which help in automated trading. In addition,well-performing trading algorithms can be bought and sold on the Autonio.
Here is a video that lists top 5 crypto trading bots :
Risks in the usage of crypto trading bots
Some of the risk factors in using crypto trading bots are as follows:
1. There may be a chance of occurrence of scams while using crypto trading bots.
2. Chance of misconception in setting up and forgetting accounts using bots.
3. Many bots are coded with poor quality software which makes bot use worse.
4. Some crypto trading bots fail to set stop-loss limits.
5. It becomes difficult for many bots to analyze the complexity of the crypto markets.
Bitdeal - Crypto Trading Bots Development Company
We, Bitdeal - Best Cryptocurrency Exchange and Blockchain Development Company offers the best crypto trading development services with complete customer satisfaction.
In addition to crypto bot development, we offer cryptocurrency wallet development and integartion of wallet into your crypto exchange.Get any kind of crypto wallet development services at Bitdeal.
If you have cryptocurrency exchange and want to integrate crypto trading bot for automatic trading or else if you just want to develop your own crypto trading bot that supports automatic trading on major exchanges, you are at a right place.
We, Bitdeal have 150+ experts who have deep knowledge as well as vast experience in developing trading bots. We first, collect the requirements of our customers and then proceed to the development process.
Our crypto trading bots development involves the development of fully automated bots or semi-automated bots with more enhanced features and security. We aim to provide fast and quick automated trading with our crypto trading bot development services.
Its time to develop your own crypto trading bot and be the best bot in the crypto market !!
Get a quote for Crypto Trading Bot Development from Bitdeal Now !!
cryptocurrency trading bot development
crypto trading bot development
crypto trading bot