Bitcoin Exchange Source Code, Script, Template and Plugins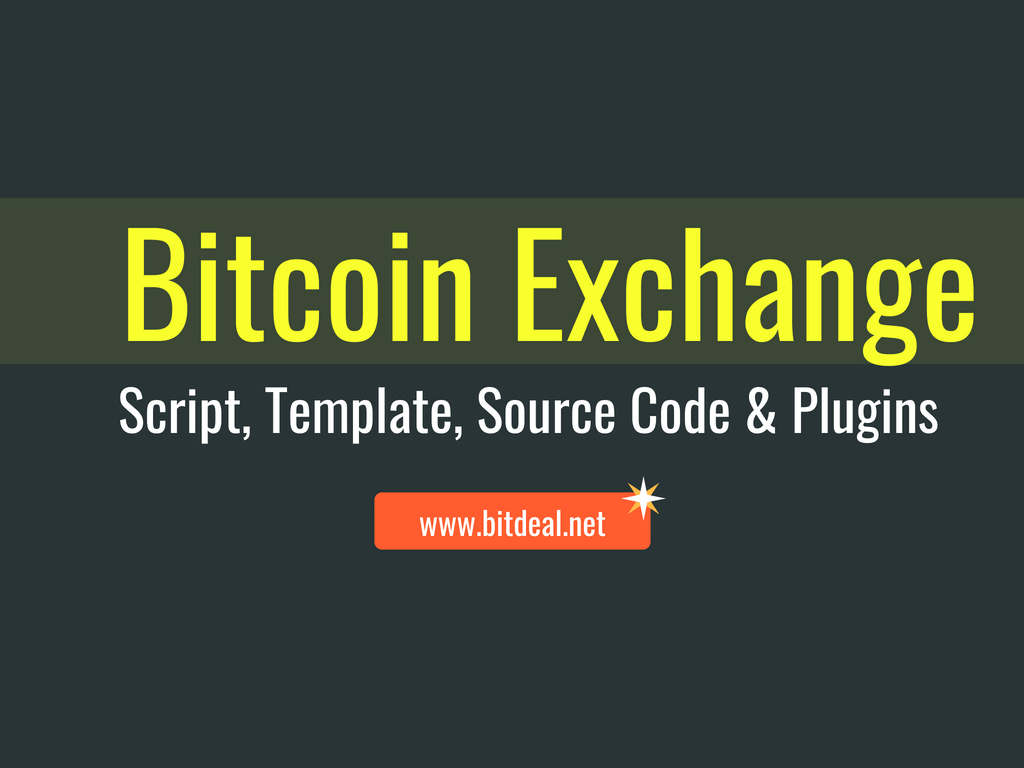 Bitcoin Exchange Source Code — It is a complete collection of software code or script, written using any human-readable programming language mostly with PHP, which can be implemented to set up a bitcoin exchange website. It is not just like other website source codes, it is entirely different because it is composed of all bitcoin trading features and functionalities. Many believe that open source bitcoin exchange script is the best choice to start a bitcoin exchange, but it is not true, because in open source bitcoin exchange script/software you can't get some security features and obviously the website which made up of with it, will not be secured to handle decentralized transactions.
Okay, hope you got a basic understanding about bitcoin exchange source code, so let us discuss in detail about where to get a bitcoin exchange source code and what are the plugins that incorporate to start a bitcoin exchange website.
Ready Made Bitcoin Exchange Script Source code and bitcoin Exchange Website Template
- Where to get the above?
As we said in the beginning, premium bitcoin exchange script alone have full potential to develop a secured bitcoin exchange website. Only recognize, reputed and renowned Bitcoin Exchange Development Company can alone provide a fully secured and white label bitcoin exchange source code in order to build a user-centric secured bitcoin exchange website.
Bitdeal — we are the monopoly and standalone player in cryptocurrency industry for the past 4 years( incorporated in 2015) to provide bug-free bitcoin exchange script(Aka source code) integrated with up to the minute bitcoin trading feature. Hence we gain more customer base every year, and we maintain the brand identity with no hassles on cryptocurrency marketplace.
Get Bitcoin Exchange Source Code
Bitcoin Exchange Plugins, API and other Solutions that can be integrated with a bitcoin exchange script.
The below are the special add-ons that can be integrated with a script during or after the deployment of a bitcoin exchange website.
1. Margin Trading & Lending Integration
2. AML — Plugin
3. KYC — Plugin
4. Complete MEAN Stack Software
5. Structured Code and High-Security Measures
6. Integrated bitcoin Wallet API
7. Market Making API
8. Liquidity API
9. Rest API
10. Price Ticker API
11. CoinMarketCap API ( To list in coinmarketcap.com)
12. Bitcoin Trading BOT API
13. Cold wallet API
Get Bitcoin Exchange APIs and Plugins
The above are the utmost basic API's that can give life to a bitcoin exchange website, Bitdeal fulfills all of the above and can integrate special API based on your requirements and needs.
Why Bitdeal ?
We are reputed Bitcoin Exchange Development Company, covering all the bitcoin, cryptocurrency business solutions, We give life to your bitcoin and cryptocurrency business plans& ideas with appropriate script and software services. Apart from bitcoin exchange development we are specialized and have expertise in ICO Development, and Blockchain development. So Don't hesitate to start your bitcoin exchange or any other cryptocurrency business website! We are ready to lift you up!!
Consult with bitdeal through whatsapp
bitcoin trading script
bitcoin exchange script
bitcoin exchange script php
bitcoin trading script php