Decentraland Clone Script To Build an NFT Virtual Platform like Decentraland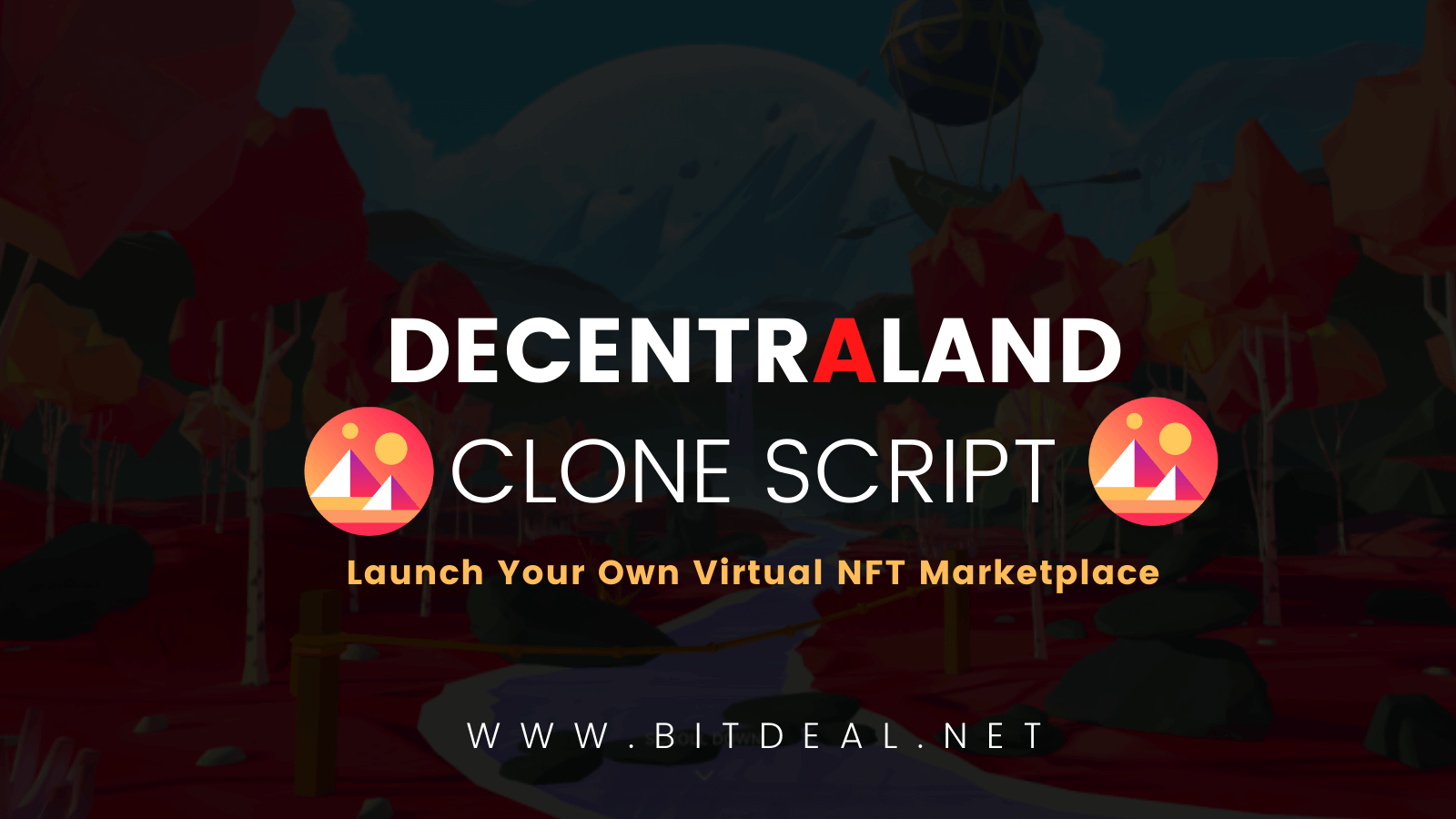 Technology helps us to explore things that even seem too much for an imagination! Virtual reality builds a new digital globe that lets mankind experience everything from limitless space to the dark graves. Decentraland is the kind of platform where one can create, felt anything and everything, Let's explore more
Decentraland Clone Script
Decentraland Clone Script is the white label NFT marketplace script that promotes a fantastic virtual world experience to users just like decentral and. It's a kind of custom source code that enables cryptopreneurs to build a platform on any kind of blockchain with specific features and functionalities where one can create scenes, trade lands, names, avatars, etc,
Blockchain-based smart contracts act as a power source to create an ecosystem where the ownership of lands is authorized with NFTs and that can be traded later.
Specifications of Bitdeal Decentraland Clone Script
Script Type: NFT Marketplace Script
Blockchain Technology: Ethereum (Customizable)
Updated Version: 1.0
Tokens: LAND (customizable)
Integrated APIs: All the prime APIs Integrated
Features of Decentraland Clone Script
Ultimate Decentralized Platform
Superior 3D Experience
P2P Interactions
DAO Ledger
Metaverse compliant infra
Advanced SDK to create lands
Encrypted Data Protection
Multi-layer security protection
Integrated Cryptocurrency Wallet
Multiple Payment Gateway Integration
KYC and AML protection
Two-factor authentication
Thinking about how to get Decentraland Clone Script?
Are you a crypto Aspirant, thinking about getting our Decentraland Clone Script? Then, no wait! Reach our Experts, they will guide and educate you more about the script and business models.
Decentraland - Insights
Decentraland Foundation was founded by Esteban Ordano and Ariel Meilich in 2015 on the Ethereum blockchain. At first, they launched the Decentralized Autonomous Organization (DAO) to provide a fully decentralized platform to users. It is a perfect virtual platform that holds real estate parcels, items, etc,
This platform lets you to
1. Explore Incredible scenes
2. Create Scenes and artwork with advanced SDT
3. Trade NFTs
All kinds of purchasing are acceptable only via the MANA token, the ERC-20 token of decentraland! This MANA token is easily available on many cryptocurrency exchanges so that the users can buy it and make purchases on Decentraland. This MANA token is stored in the Ethereum wallet.
Decentraland Marketplace
Other than the virtual world and gaming environment, it has released a marketplace for users with drag and drops editor to access scenes this Marketplace lets Participants to trade LAND tokens which are labeled as MANAOne can use this marketplace to transact parcels and game items. All kinds of transactions are verified in the Ethereum network
Native Tokens of Decentraland
MANA - Cryptocurrency
It's a native cryptocurrency of Decentraland
All Trades supported only MANA token
MANA holders have a right to participate in voting
MANA is converted into Wrapped MANA (WMANA) in voting
LAND Token can be purchased with MANA
LAND - Non-Fungible Token
The land is the NFT that defines the land parcel
LAND Token also supports Voting
Like MANA no need for wrapping in voting
Decentraland Architecture
Ethereum Smart Contracts form many-layered Components in Decentraland. The Digital Ledger tracks the land parcel ownership. Each Land Parcel is encrypted with the corresponding virtual land, owner, and content description.
The Layer includes files like
Content Files: To Refer all audios and videos in static
Script Files: Define the behavior and character of content
Interaction Definition: Responsible for P2P Interactions like voice, chat, etc,
How Does Decentraland Clone Script Work?
The Platform build by decentraland clone script works the same as decentraland
Traders View
At first, one needs to create an account
Load the crypto wallet with MANA
Other than trading, the user needs to be active in games and other activities
One can buy LAND with MANA
The LAND holder can monetize their NFT if they want to
Creators View
Needs to create an account
Fill up the wallet with MANA
Create Scenes, Artwork with Advanced SDT
Create it as NFT
Trade NFTs
Decentralized Autonomous Organization - DAO
Decentralized Autonomous Organization holds the most prominent smart contract that makes up the decentraland includes LAND contract, EStates contract, Marketplace, Wearables, etc which is considered as truly autonomous. The Community Players controls the land, digital assets, and a lot more, As DAO uses open source code to streamline its rules. One can stake MANA or hold LAND and participate in the voting process. This DAO runs on DAO Software solution Aragon that would interact with Ethereum Smart Contracts.
Decentraland Clone Script Use Cases
3D Scenes Creation
Content Curation
Advertisements
Collectibles
Social Interactions
Why Bitdeal Cares?
Bitdeal is the leading NFT Marketplace Development Company with a great motto to leverage Startups in NFT Business.
7+ Years of field experience
Powerful team with blockchain experts
round a clock technical support
Agile Development Methodologies
On-time Deployment
Global Clients
Our best Selling NFT Marketplace Clone Scripts
Get a Free Quote from Bitdeal !!
Disclaimer: Bitdeal never has control over the Decentraland and their trade mark, also we are not doing any promotional activities for them . We are using the term "Decentraland" for easy understanding and identification. Our products and services are not mean to harm any organization or individual.