NFT Marketplace Development Company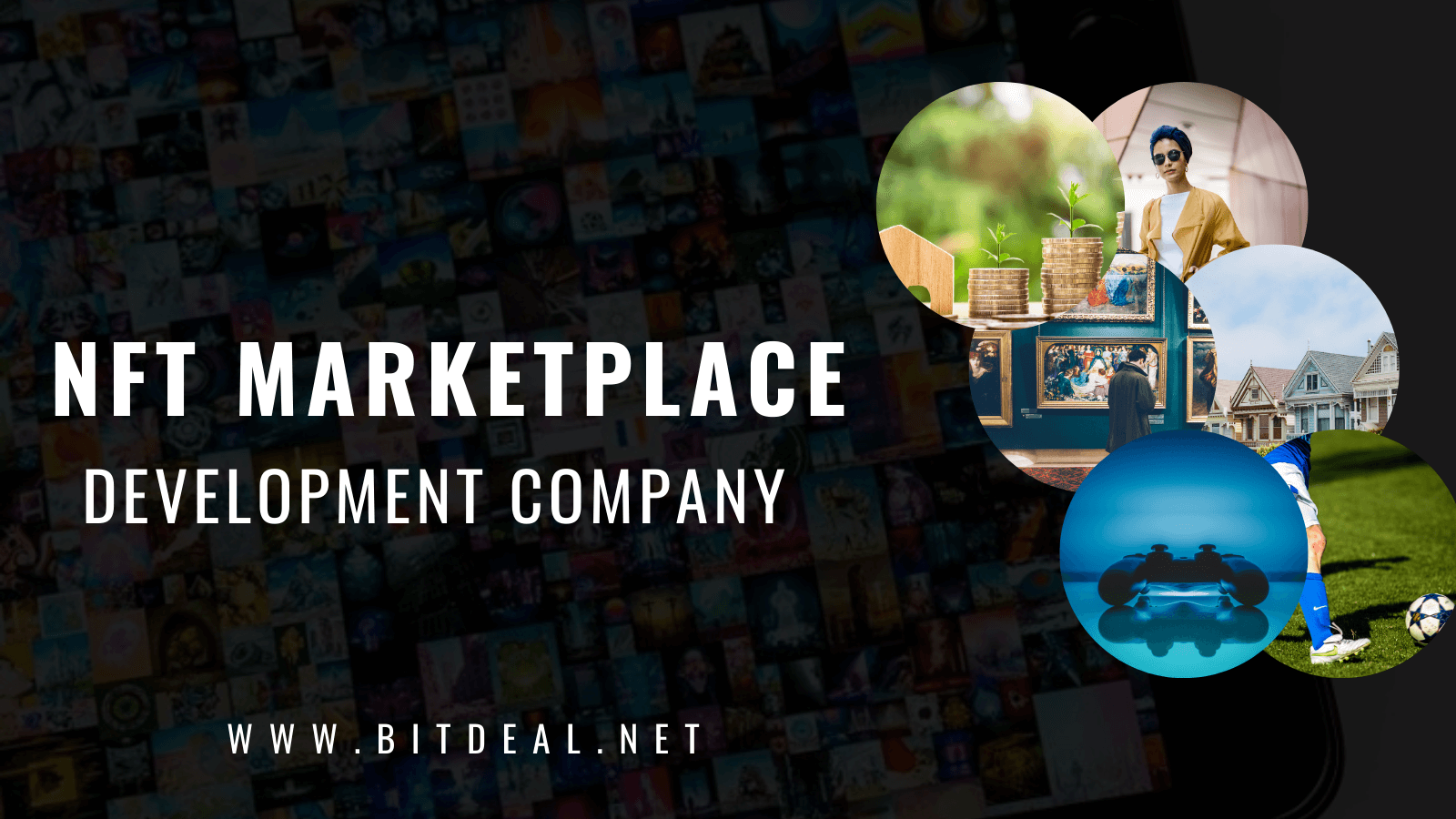 NFT Marketplace Development
NFT Marketplaces are on their way to make global revenue by fulfilling the needs of the individuals of the crypto globe. In those lists, some of the topmost NFT Marketplaces include OpenSea, Rarible, Foundation, Super Farm, Decentraland, and more. The development of one such NFT Marketplace that offers an online platform that is reliable, secure, fast, and easy to buy, sell, trade NFTs and digital works as NFTs.
As Non-Fungible Tokens hold an ever replaceable place in the crypto market, the NFT Marketplace will tend to grow more and more. Thus NFT Marketplace Development will be the best business solution for all crypto business people. To launch your own NFT Marketplace like OpenSea, contact the best NFT Marketplace Development firm like Bitdeal, who can furnish you with A to Z NFT Marketplace Development Services.
Catch Our Experts to Build Your Own NFT Marketplace !!
NFT And Its Impact on Digital Economy
As of now, the Marketcap value of NFTs has increased approximately by 1,787%, which shows the potential of NFT usage and NFT Marketplace growth in 2021 and beyond.
Still Unaware of the term NFT?
NFT is a Non-Fungible Token that has started revolutionizing the digital economy on a large scale. These NFTs help many meme creators, artists, and individuals who own digital assets to earn ownership for their digital works and assets.
These NFTs are being the next big thing in the crypto globe after the DeFi waves. Know more about Non-Fungible Tokens (NFTs) in our article - What is Next After DeFi?
NFT Marketplaces are the online platform that lets digital creators sell their products as NFTs and earn ownership and cryptos in return.
Thus NFT Marketplace is the best online marketplace for buying and selling NFT based virtual products easily with high-end security.
Recent Stats That Proves NFT Marketplace - A Profitable Revenue Stream
The market cap value of NFT moves fast and is growing ten-fold between the years 2018 to 2020, which is shown in the below graph.
The global transactions of NFTs recorded in 2018 is $40.96 M and in 2019 is $141.56 M and in 2020 is $338.04 M.
This concept of NFTs prevails from late 2012, and the first well-known NFT is Jack Dorsey sold for $3 M.
An NFT is known as Everyday: The First 5,000 Days, was auctioned off for $69 M, in 2021.
The NFTs are utilized to show ownership of file format which includes JPEGs, GIFs and MP3, and more.
This shows that utilization of NFTs and NFT Marketplace will be huge in 2021 and beyond.
Thus, launching an NFT Marketplace will be a promising Revenue Streaming Method in this competitive crypto globe.
How Does NFT Marketplace Work to Benefit its Users?
Before the development of NFT Marketplace, one must know the working of NFT Marketplace from the client-side.
Step 1: Initially, users have to sign up on the NFT Marketplace.
Step 2: Install a digital wallet to store NFTs
Step 3: Then user can create their assets by uploading their items of work
Step 4: Users are free to select desired payment tokens and set fees for their digital works
Step 5: Then they should list items for sale
Step 6: The user is subjected to choose a bid for a fixed price.
Step 7: Transaction is made when listing an item for sale
This is how an NFT Marketplace works and benefits the user of the platform.
Special Characteristics of NFTs
Listed here are the advantages of non-fungible tokens NFTs.
Indivisible
Scarcity
Transferability
Trustworthy
Uniqueness
Ownership and more.
Specialties of NFT Marketplace
Look at the specialties that make an NFT Marketplace more adaptable and popular among crypto people.
Liquidity
All the NFT Marketplaces possess high liquidity as they offer instant trading of NFTs. These Non-Fungible Tokens(NFTs) can be kept as collateral for any liquid cash or as any other form of cryptos for instant cash.
As NFT Marketplace has the ability for expanding the market for any unique digital products and also offers immediate liquidity with a high pool of audience in the market.
Scarcity
The Smart Contracts of NFT Marketplace allows developers to restrict only a specific number of any specific rare items that can be created.
They can also enforce those specific properties do not change over time by encoding it on-chain which improves the uniqueness of the creation.
All these provide a way that any properties developed can not be modified after the issuance of NFTs on the platform.
Controllability
As with all other digital assets NFTs are also completely programmable which represents that they are controllable.
Many NFT Marketplaces in the crypto market feature crafting, forging, random generation, redeeming, and more with full possibilities to use the platform in a better way.
Tradability
NFTs can be traded in various virtual environments & marketplaces due to its interoperability character.
Thus NFT holders can enjoy trading capabilities such as the ability to sell in the market, bidding, binding, and more.
Interoperability
The Standards of NFTs allow for interaction with any marketplace. The wallet providers are instructed with any new launch of NFTs immediately that they can start trading those NFTs on any marketplace.
The open standards of NFT and NFT Marketplace offer consistent, clear, reliable, and permission API for all activities in the platform.
These are the special characteristics of the top NFT Marketplace that make them popular among the people.
Important Features of NFT Marketplace Development
Storefront
Filters
Searching for Items
Buy & Bid
Wallet and so on.
Popular NFT Marketplaces
Listed here is the most popular NFT Marketplace that rules the crypto globe and makes global revenue by uplifting many businesses and industries such as art, collectibles, fashion, and more.
ø Opensea
ø Rarible
ø Foundation
ø Super Rare
ø Enjin
ø Ethernity
ø Superfarm
ø Decentraland
ø Nifty Gateway
ø Async Art and more.
Business Benefits of Launching Your Own NFT Marketplace
NFTs are gaining huge attention and the user base of NFT Marketplaces is increasing day by day. This shows that NFT Marketplaces have an everlasting place in the cryptocurrency globe in 2021 and after that.
Look at the major benefits one acquires by creating their own NFT Marketplace in this competitive NFT space.
► Can Generate More ROI
► Helps to Obtain High User Base
► Most Preferred Business Idea by Crypto Entrepreneurs
► Constant Business Growth as long as NFT exists
► Less or No Maintenance Required
► Be A Contributor to Global Revenue and more.
By launching your own NFT Marketplace, you can gain more visibility, revenue, and user density than any other crypto business.
Bitdeal - NFT Marketplace Development Company
We Bitdeal - Leading NFT Marketplace Development Company offers various NFT Marketplace development services and solutions for all the clients across the globe. Our NFT Developers are skilled in developing and deploying smart contracts on any blockchain that performs the functionalities of NFT Marketplace.
We develop NFT Marketplace development services that support a variety of businesses and industries which includes gaming, arts, sports, fashion, and more.
We offer NFT Marketplace Development Solutions such as
⇒ NFT for Art Industry
⇒ NFT for Sports
⇒ NFT for Fashion
⇒ NFT for Real Estate
⇒ NFT for Music
⇒ NFT for Domain Names
⇒ NFT for Digital Accessories
⇒ NFT for Gaming
⇒ NFT for Collectibles
⇒ NFT for Infrastructure development and more.
Apart from the list, we serve more than 30+ industries with our NFT solutions to transform their business growth.
We also provide clone scripts of the most popular NFT Marketplaces such as Opensea, Rarible, Foundation with which you can instantly launch your own NFT Marketplace and gain credibility quicker and faster.

Some of our Top Selling NFT Marketplace Clones are as follows:
⇔ Opensea Clone Script
⇔ Rarible Clone Script
⇔ Foundation Clone Script
⇔ SuperRare Clone Script
⇔ Enjin Clone Script and a lot more.
Our Blockchain Expertise
We are expertise in the development & deployment of NFT Marketplace on the following blockchain platforms
Ø Ethereum
Ø Tezos
Ø Binance Smart Chain
Ø Cardano
Ø EOS and more.
Catch our NFT Marketplace Experts to know more about our NFT Marketplace Services and Solutions.
Our NFT Marketplace Development
NFT Standards
ERC 721
TRC 721
ERC 1155
FA2
dGoods and more.
Front-End Frameworks
Vue
React
Angular and so on.
Specialties of Bitdeal's NFT Marketplace Development
Completely Decentralized
Cross Chain Bridging
Advanced Token Usecases
Support of various currency
Permissionless Monetization and more.
Why Choose Bitdeal for Your NFT Marketplace Development?
Since there are numerous NFT Marketplace development service providers in the market and choosing Bitdeal for your NFT Marketplace development will be the right choice as,
♦ We have a pool of NFT Experts
♦ Highly Expertise in NFT Marketplace Development
♦ Ready-to-Launch NFT Marketplace Whitelabel Scripts
♦ Perfectly developed & tested Smart Contracts
♦ 6+ years of experience in blockchain technology
♦ Long-Lasting Technical Support
♦ Highly Specialized in Clone development of top NFT Marketplaces such as Rarible Clone Script, OpenSea Clone Script, and more
Ready to launch your own NFT Marketplace and kickstart your journey in the Crypto globe?
Get a free quote from Bitdeal for your NFT Marketplace Development !