Start Your Own Million-dollar Business By Launching NFT Marketplace For Arts like OpenSea, Rarible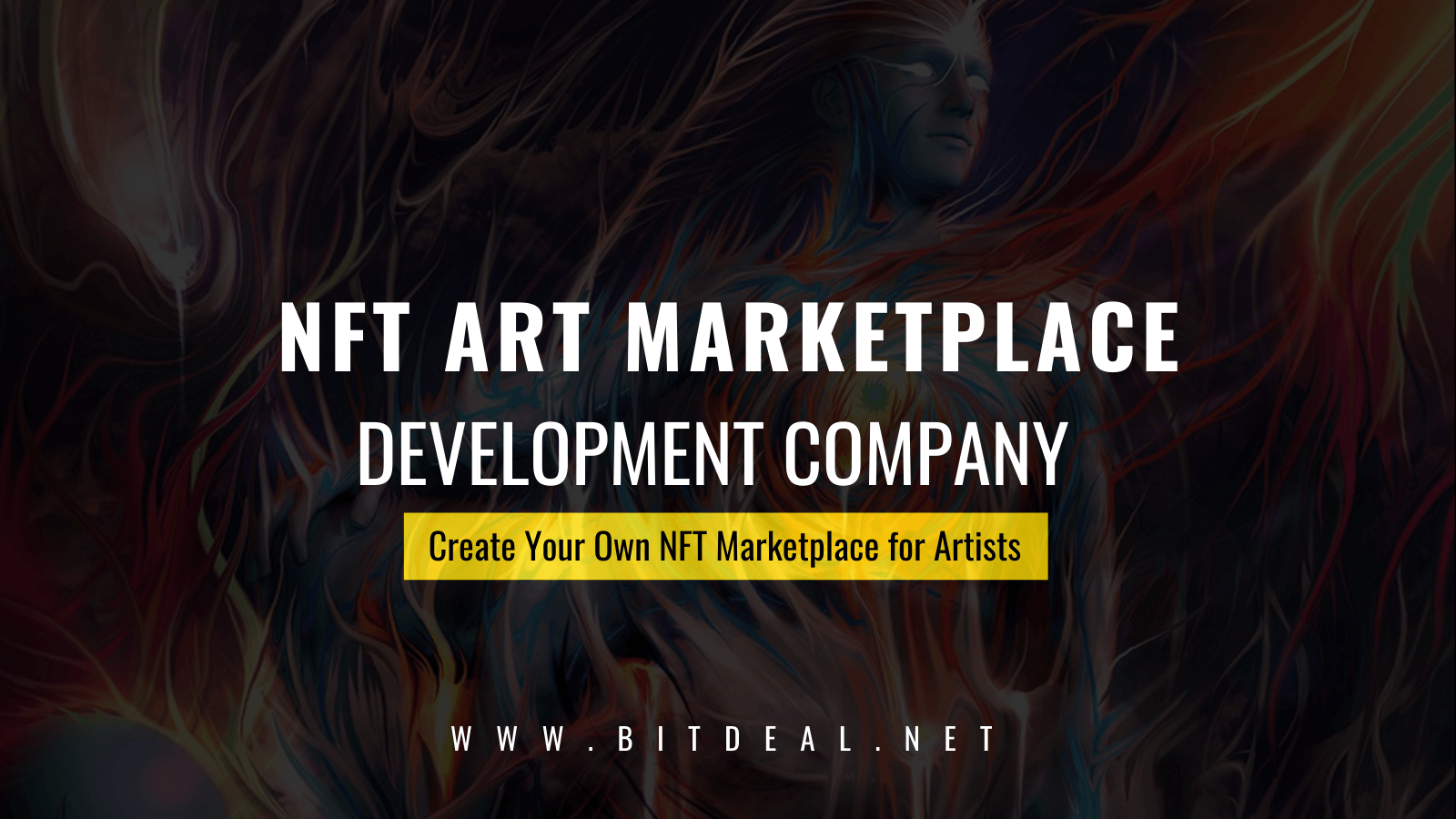 NFT Art Marketplace
The introduction of crypto arts or digital arts on the NFT Marketplace has paved a way for several artists and investors to utilize the opportunity for making huge profits in a short span of time.
Thus, NFT art Marketplace is being considered as a million-dollar revenue-generating business idea that is powered with blockchain smart contracts for the exchange of digital arts into NFTs, non-fungible tokens by the process of tokenization.
For the purchase of digital arts, the commonly used NFT token standards are ERC 721 and ERC 1155.
NFT Marketplace For Artists
The NFT Marketplace for art and artists has an organized infrastructure for digitizing creative artwork in virtual environments. The non-fungible tokens, NFTs, have unique properties which reshape the whole NFT art marketplace from gaining ownership rights, unique identity, and also holding the unique value.
The curiosity of this NFT marketplace for art among artists is completely worthy of its innovative strategies and techniques.
Advantages of NFT Art Marketplace
Highly Interoperable
Ultra Transparency
Accessible by anyone
Peer to Peer network with greater efficiency
Integration of Secured Protocols
Completely Automated
Resist to hacks
Fewer Transaction fees
Faster Transaction speed and so on.
NFT Art Marketplace Development
The NFT Art Marketplace is powered by smart contract systems which manage the execution of NFTs in blockchain networks. The NFT Marketplace development involves the integration of high-end security systems and the latest features which offer a better user experience.
The NFT Art Marketplace is developed with the feature that digital assets can be tokenized into NFTs and users can experience fast transaction rates. The development of NFT Art Marketplace from scratch is possible if you have a professional development team.
We Bitdeal - Leading NFT Marketplace Development Company to have a pool of NFT marketplace experts who are skilled in developing NFT Art Marketplace on any blockchain network with Governance token.
Catch Our Experts to know the cost of development of NFT Art Marketplace.
NFT Marketplace Development For Artists
The NFT Marketplace Development for artists has organized a way for artists & investors to benefit from selling digital NFTs. To reduce transaction fees, the middle man interaction is eliminated in the NFT Art Marketplace.
The whole NFT Art Marketplace is regulated to benefitting buyers & sellers during a trade.
Thus NFT Marketplace Development which supports artists to tokenize their digital arts as NFTs and offer rewards are the most preferred business idea now.
Business Benefits of NFT Art Marketplace Development
Listed here are the benefits of NFT Marketplace Development for art.
Global End-users
Widely spread the business idea
Benefitted for both artists & business owners
Less or no operational costs.
High return on investment and so on.
Features of NFT Art Marketplace Development
Listed here are the key features of NFT Art Marketplace Development
Liquidity
The liquidity generated by NFT Art Marketplace is high and works effectively on instant trading of NFTs. There is a possibility to turn NFTs into liquid cash or cryptocurrencies.
Interoperability
NFTs standards such as ERC 721 and ERC 1155 are visible on integrated third-party wallets. These standards are open, consistent, and permissioned APIs and are reliable to operate on various marketplaces.
Scarcity
It is the main reason for the demand for NFTs art tokens for gaining profits through bidding or trading.
Standardization
It is possible to transfer ownership rights and access to NFTs to display digital arts in the marketplace.
Tradability
Tradability enables users to trade NFTs on various virtual marketplaces and the NFT art token holders can enjoy bidding, trading, buying, and selling in the trade market & application-based currencies.
Controllability
A private key is used to access the NFT art marketplace and this lowers the risk and fraud activities.
Basic Features of Our NFT Art Marketplace Development
Some other common features present in NFT Art Marketplace are as follows :
Blockchain-powered smart contract
Art Creator/ User panel
Governance Token
Art listing options
Minting of NFTs
Liquidity Integration
Community Integration
Secured Blockchain Network
Integration with multiple Ecosystem
Option to group arts and more.
Top NFT Marketplace for Artists
Listed here are the top NFT Art Marketplace which is popular among the artists.
1. OpenSea
OpenSea is called the eBay of NFT Marketplaces and they curate & sell digital arts from other platforms.
Anyone can mint NFTs and NFT collections directly on the platform without upfront fees.
2. Rarible
Rarible is also one of the famous NFT Art Marketplaces like OpenSea in which gas fees are paid upfront. The Rarible platform has its own governance token called RARI to be used on the platform.
3. Foundation
In Foundation, before submitting an application, one must be invited by any existing Foundation creator. If anyone has a perfect Twitter following, they can rally their community to vote on the platform.
4. SuperRare
SuperRare is an NFT marketplace in which one must submit the application that needs to be accepted to the list on the marketplace. There is a backlog of artist applications, get applications soon if you want to mint there.
5. KnownOrigin
KnownOrigin is an NFT platform that is also known for crypto arts and artists tokenization as NFTs.
Some other popular NFT Art Marketplaces are as follows :
1. Mint Gold Dust
2. Nifty Gateway
3. MakersPlace
4. Mintable
5. Illust Space and more.
Bitdeal - NFT Art Marketplace Development Company
Being the best NFT Art Marketplace Development Service Provider, We Bitdeal furnishes all kinds of NFT Marketplace development for artists & arts. You can also launch your own NFT Art Marketplace Platform like Opensea, Rarible, or any of the above with the help of Bitdeal's NFT Art Marketplace Development Services.
We develop NFT Art Marketplace from Scratch and also provide clone development of any popular NFT Art Marketplace to attain brand identity quicker. Some of our top selling NFT Art Marketplace Clone Scripts are as follows :
Why Choose Bitdeal for NFT Art Marketplace Development?
Listed here are the hidden reasons to choose Bitdeal for your own NFT Art Marketplace Development.
The pool of Skilled NFT Experts
On-Time delivery
Transparency in Development Process
7+ Years of Industry Experience
50+ NFT Art Marketplace delivered
24X7 technical support
Best NFT Art Marketplace Development Services at an Affordable Cost
Clone Development for quicker visibility and so on
Want to develop your own NFT Art Marketplace and start your million-dollar business journey?
Contact Bitdeal's NFT Experts now and they can assist you with instant NFT Art Marketplace development solutions!