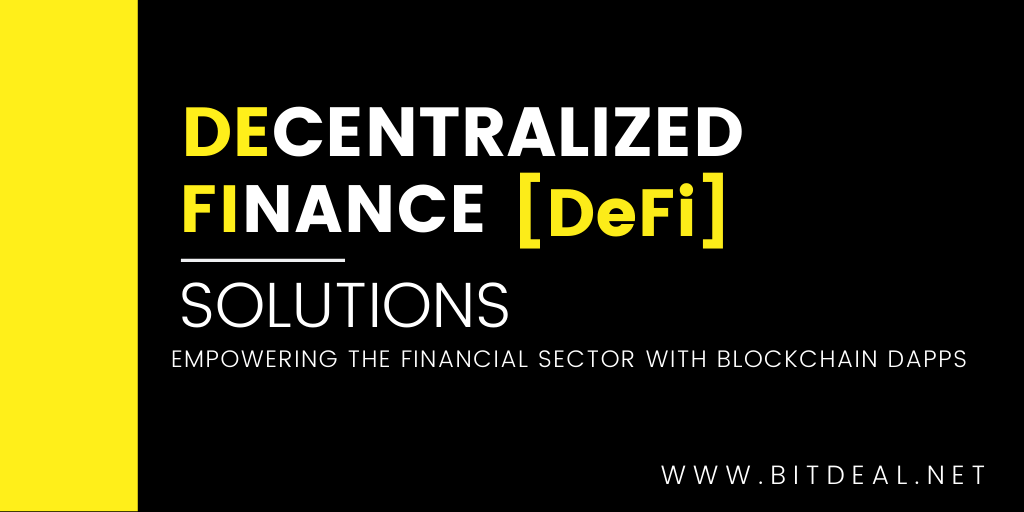 Decentralized Finance Solutions To Empower The FinTech Industry With Blockchain Dapps
One of the fastest-growing sectors in the globe is "Finance". It is expected that the Financial Service Market will reach nearly $26.5 trillion by 2022.
The already existing traditional financial system becomes tedious to progress and it gets slowly replaced by the New Financial System named "DeFi - Decentralized Finance".
What is DeFi?
A new system or way that is introduced to leverage the decentralized networks for the complete transformation of old or traditional financial products to a transparent and trustless ecosystem is known as DeFi.
This DeFi or Decentralized Finance eliminates the presence of intermediates in the financial process.
If you want to get more detailed information about the DeFi, you can have a look at our previous article: What Is Decentralized Finance ( DeFi ) ?.
This above article covered overall information about this new decentralized financial ecosystem. Hope this article has nourished you with important aspects of DeFi.
Decentralized Finance Solutions (DeFi)
Decentralized Finance Solutions is the process of leveraging the existing financial services to the decentralized ecosystem. This involves the development of dapps and smart contracts that empowers the financial system with high transparency and security.
Bitdeal - Leading Blockchain Development Company offers 360-degree blockchain solutions for any kind of industry verticals. We are now glad to announce you about a new additional service to the list - " Decentralized Finance Solutions ".
Yeah. We extend our services in providing supreme decentralized finance (DeFi ) solutions across all borders with complete client satisfaction.
We already in the mission of gratifying our clients through our Blockchain Solutions which includes,
Custom/ Private Blockchain Development
Ethereum Token Development and so on.
Our Blockchain Developers is doing continuous R and D processes about each and every single move of DeFi to provide the best DeFi solutions.
Bitdeal's DeFi Services
Bitdeal - Leading Dapp Development Company offers decentralized finance solutions for all types of financial processes. We develop and deploy the stunning decentralized applications ( dapps ) for your financial operations or businesses.
As you know there is no such completely decentralized DeFi dapp developed so for. We Bitdeal develop DeFi Dapps based on the following degree of decentralization.
Have a look at the infographic that shows the degree of decentralization of DeFi dapps .
Our experts provide smart contract and dapp development services for all your demands and needs through the use of DeFi.
DeFi Dapp Development
Our Experts develop DeFi dapps for more enhanced features with maximum transparency that creates trustworthiness among the end-users.
Smart Contract Development
We develop and deploy the 100% secured smart contract for various decentralized finance services.
DeFi Lending Platform Development
We provide the development of a decentralized lending platform that offers loans and insurance. This can be developed with stablecoins and crypto rewards.
We develop dapps for all your financial operations based on the DeFi projects launched so far. Our major DeFi dapp development verticals involve the following :
1. Decentralized Exchange
2. Insurance
3. Lending and Borrowing
4. Payment Operations
5. Stablecoins
6. Market Predictions
7. Asset Tokenization and more.
We mostly prefer Ethereum, EOS and the Bitcoin blockchain network for the development of DeFi dapps like DeFi Prime Projects.
Why choose Bitdeal?
Here are some keynotes that insist you to choose Bitdeal for DeFi solutions and also for all other blockchain solutions.
1. First and foremost, we have a separate team of experts to process the submitted Inquiries and respond to those quickly.
2. As an organization, We have more than 6+ years of experience in Blockchain Development.
3. Bitdeal is a one-stop-shop for all your blockchain development needs.
4. We have 200+ dedicated blockchain developers who are flexible at work.
5. Our Experts do constant knowledge gaining about new trends and technologies.
6. We provide high touch communication with our experts that helps you to know about each phase of the product development.
7. We always commit ourselves to the quality of delivery and customer satisfaction.
8. 100% security for your personal and project belongings.
9. On-time delivery with expected quality.
10. We provide 24 X 7 support even after the completion of the project duration.
So, you can sign a DeFi Dapp development or any other blockchain-related project without any hesitation. We always try to deliver more than your expectations.
Feel free to contact our support team anytime anywhere !!
Get a free quote for DeFi Dapp Development Now !!
decentralized finance solutions
decentralized finance
DeFi