Remitano Clone Script to start Your Crypto Exchange like Remitano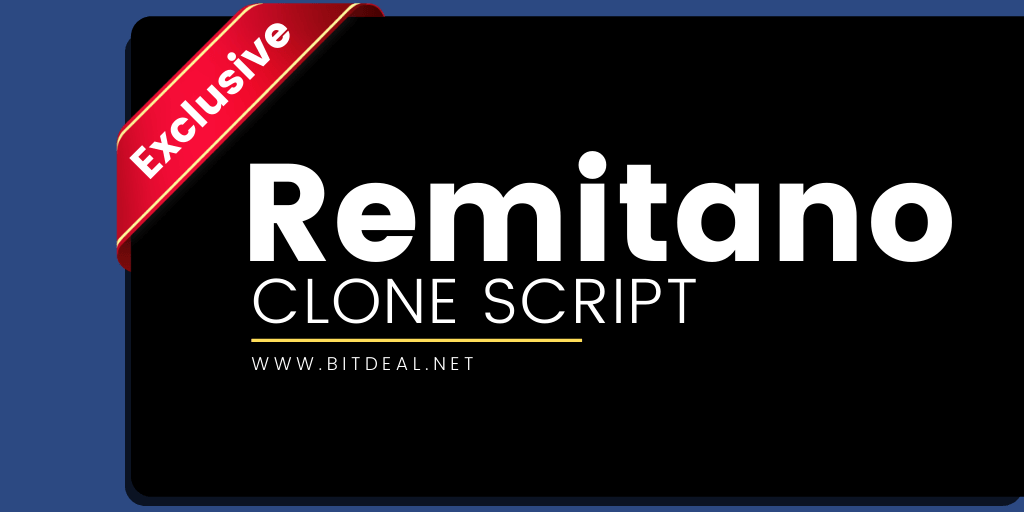 Remitano Clone Script
Remitano clone Script is the white label ready-made package of remitano clone website script with 100% source code entirely built upon cybersecurity protocols with advanced encryption techniques. Any entrepreneur can easily start a Cryptocurrency Exchange just like Remitano with Bitdeal's Remitano Clone Script as the script has all the basic inbuilt features of remitano. The added advantage of our script is customization, a business person can customize the script by adding a unique logo, modifying UI/UX design, additional features, etc based on their business requirements and market trend.
Remitano Clone Script Features
Cryptocurrency Wallet integration
A cryptocurrency wallet is a primary thing in any kind of cryptocurrency exchanges, we provide an integrated cryptocurrency wallet that could support 100+ Cryptocurrencies, Ico token, defi token, etc
Superfast Trade Matching Engine
Our script comes with a super-fast jet-speed trade engine to provide sophisticated trading experience to the traders.
P2P Trading
Peer to Peer trading facility, here trading happens end to end with any kind of involvement of third parties as traders can match, sell, and buy order themself to proceed with the trading. Nowadays, p2p trading is getting popular as it becomes the preferred choice for traders.
Trading Bot
The trading bot is an automated bot that could be integrated in a crypto exchange, it proceeds with trading automatically when the market price of cryptocurrencies coincides with the programmed price. Thus, it saves lots and lots of time for traders from monitoring market prices.
High Transaction Speed
To reduce traders waiting time, high transaction speed is completely possible with our remitano clone script, so that the traders can enjoy butter smooth and lightning speed transactions.
Two-factor authentication/KYC
To assure top security, our remitano clone script comes with two-factor authentication. Traders are verified each time with their registered mobile number and email-id before login in the exchange
Multiple language support
We provide multiple language support so that the language will not be the barrier for your traders. This will significantly increase the trade volume of the exchange by pulling traders from various countries.
Some other Exclusive features are
Escrow protection
Derivatives trading
Launchpad integration
Cryptocurrency Stacking
Atomic swap
DEX
Smart Contract
OTC Trading
Multiple layer security
Bounty features
Remitano Clone App Development
Remitano has launched remitano mobile apps in android as well as ios platform to attract mobile-based traders, about 1.5 million traders are using remitano app for trading. We bitdeal, build P2P Escrow protected Cryptocurrency Exchange mobile app just like Remitnao. With our Remitano clone app, traders can buy, sell, invest, deposit, and withdraw cryptocurrencies securely.
Premium features of Remitano Clone app
Notification Alert
Two-factor authentication
QA Scanner
Escrow Protection
Ad-Posting facility
Encrypted private key
Trading Bot
White list option
Live chat options
Location tracking
Why start an exchange like Remitano?
Remitano Exchange is one of the powerful cryptocurrency exchanges that allow for a Reliable, secure, and stable online platform for trading of digital currency.
Even though Remitano is not a regulated crypto-exchange platform it has proven to be the reliable and no scam exchange to trade with low transaction fees.
Start your own crypto exchange as like Remitano to cover up many traders from all the borders of the world within your exchanges.
Business benefits of starting a Crypto Exchange like Remitano
Enrich ROI
Create Brand identification
Customization
Saves money and time
Quick market launch
Enhances Liquidity
Builds Trust
Wide range of trading models
What is Remitano?
Remitano is a Peer-to-Peer Bitcoin Exchange platform that was launched in late 2016. It is a Seychelles based bitcoin exchange that allows for the buy and sells cryptocurrency.
Remitano holds buyer's crypto coins in escrow, then allows sellers for listing crypto assets for trade. It allows users to buy or sell of cryptocurrencies such as Bitcoin and Ethereum directly to other traders with alternative payment methods like bank transfer, etc.,
Highlights of Remitano
1. Remitano provides escrowed cryptocurrency exchange where people can buy and sell Bitcoin and other cryptocurrencies easily with a notable simple User Interface, user-friendly online customer support 24/7, HI-FI security.
2. Remitano extends its service only in countries like the United States, UK, Australia, Malaysia, Nigeria, Vietnam, Cambodia, India, China, Tanzania, Taiwan, Sweden, and Ghana.
3. The new feature of Remitano exchange, the customer support system is so useful for the users to resolve their issues through live chats.
4. Remitano Exchange charges a 1% fee from the taker and 0% from the maker.
5. Remitano provides two platforms on which it runs its services.
The web-based platform
The mobile app platform which is available on the App Store and Google Play store
6. Remitano allows us to buy or sell the Bitcoin (BTC), Ether (ETH), Tether (USDT), Bitcoin Cash (BCH) on exchange for fiat currency with three different account types such as Starter, Gold, Platinum.
Check more about remitano at FXE
7. Security Aspects of Remitano
1. Ruminator provides two-factor authentication for initiating transactions/trading in its platform.
2. It has an escrow system to handle transactions.
3. Email verification during login of account.
4. Clear and complete KYC process which requires identification of sellers through their government IDs or Documents.
5. Transaction timeouts after a short time of inactivity, which require identification for the process to begin again.
8. So, Remitano is so safe as it also uses the latest encryption mechanism with the above-mentioned security features which make the remitano site hacker-proof.
9. Remitano offers the best trading with low transaction time as it is so easy to buy and sell cryptocurrency in this platform.
10. Remitano is concentrating on increasing the number of countries served, cryptocurrency supported, and lot more additional support features.
For more info about Remitano exchange at cryptocompare
How to Start an Exchange like Remitano?
One can easily start a Cryptocurrency Exchange like Remitano with Bitdeal's Remitano clone Script. This script is the fundamental product to start an Exchange and below are the basic general guidelines to build a Cryptocurrency Exchange.
1. Fix a business model for your Cryptocurrency Exchange
2. Choose the location, I.e, the country you want to start
3. Go through the Cryptocurrency rules and regulations in that country
4. Derive the best marketing strategy, as it as indispensable for any kind of business
5. Include various payment options in your exchange including banks, so that traders
trust your exchange
6. Provide 24x7 customer support
7. Keep updating your exchange based on the trend
Why choose Bitdeal for Remitano Clone Script?
Bitdeal is the leading Cryptocurrency Exchange Software Development Company that offers profound solutions in providing Cryptocurrency Exchange Clone Scripts with highly skilled developers. As the early bird in the industry, we never delayed updating our script based on the market trends.
Rock-solid reasons to choose bitdeal
On-time deployment
Agile methodologies
Standard Experience in the industry
Availability for future consultations
No profit-sharing
Highly skilled developers
Premium clone scripts
Buy Remitano Clone Script Free Demo !!
Disclaimer: Bitdeal never has control over the Remitano and their trade mark, also we are not doing any promotional activities for them . We are using the term "Remitano" for easy understanding and identification. Our products and services are not mean to harm any organization or individual.
cryptocurrency
remitano clone script
remitano clone app
The Price of Remitano Clone Script ranges between 3000 USD to 5000 USD entirely based upon the integrated features, APIs, and the technology used. Bitdeal also provides premium Remitano Clone Script that requires less Customization.
Yes, of course! we will deploy you the customized script based on your business requirements and market trend.Our Experts take care of this, no worries!
Bitdeal Strengthens the Remitano clone script with the following features
Escrow Protection
Two-factor authentication
Derivative trading features
P2P Trading
Cryptocurrency Wallet
and a lot more
Absolutely possible! We develop P2P Cryptocurrency Exchange mobile applications just like Remitano app for both android and ios.
Bitdeal is Experienced Cryptocurrency Exchange Development Company stands unique in the industry with prolific business ethics and highly skilled developers, we develop and deploy, high standard scripts with no profit sharing in the future. so, why not bitdeal?