Remitano Clone Script to start your crypto exchange like Remitano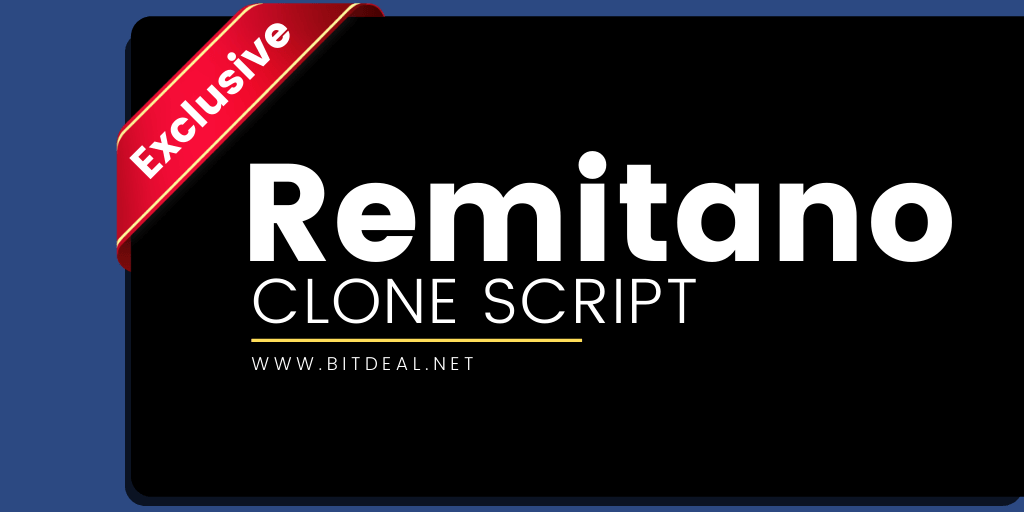 Bitdeal - Leading Cryptocurrency Exchange Clone Script Provider, offers the best Remitano Clone Script to start your own exchange as like Remitano. We develop and deploy unique Remitano clone script with advanced security features.
Remitano Clone Script
It is a website script that has all the existing features, API's and Plug-ins as like the popular cryptocurrency exchange Remitano. We Bitdeal provides the best remitano clone script to start your own exchange platform.
What is Remitano?
Remitano is a Peer-to-Peer Bitcoin Exchange platform which was launched in late 2016. It is a Seychelles based bitcoin exchange that allows for buy and sell of cryptocurrency.
Remitano holds buyer's crypto coins in escrow, then allow sellers for listing crypto assets for trade. It allows users to buy or sell of cryptocurrencies such as Bitcoin and Ethereum directly to other traders with alternative payment methods like bank transfer, etc.,
Why start an exchange like Remitano ?
Remitano Exchange is one of the powerful cryptocurrency exchange that allows for Reliable, secured, and stable online platform for trading of digital currency.
Even though Remitano is not a regulated crypto-exchange platform it has proven to be the reliable and no scam exchange to trade with low transaction fees.
Start your own crypto exchange as like Remitano to cover up many traders from all the borders of the world within your exchanges.
Highlights of Remitano
1. Remitano provides escrowed cryptocurrency exchange where people can buy and sell Bitcoin and other cryptocurrencies easily with notable simple User Interface, user-friendly online customer support 24/7, HI-FI security.
2. Remitano extends its service only in countries like the United States, UK, Australia, Malaysia, Nigeria, Vietnam, Cambodia, India, China, Tanzania, Taiwan, Sweden, and Ghana.
3. The new feature of Remitano exchange, the customer support system is so useful for the users to resolve their issues through live chats.
4. Remitano Exchange charges 1% fee from the taker and 0% from the maker.
5. Remitano provides two platforms on which it runs its services.
The web-based platform
The mobile app platform which is available on the App Store and Google Play store
6. Remitano allows to buy or sell the Bitcoin (BTC), Ether (ETH), Tether (USDT), Bitcoin Cash (BCH) on exchange for fiat currency with three different account types such as Starter, Gold, Platinum.
Check more about remitano at FXE
7. Security Aspects of Remitano
1. Reminato provides two-factor authentication for initiating transactions/trading in its platform.
2. It has an escrow system to handle transactions.
3. Email verification during login of account.
4. Clear and complete KYC process which requires identification of sellers through their government IDs or Documents.
5. Transaction timeouts after a short time of inactivity, which requires identification for the process to begin again.
8. So, Remitano is so safe as it also uses the latest encryption mechanism with the above-mentioned security features which make the remitano site hacker-proof.
9. Remitano offers the best trading with low transaction time as it is so easy to buy and sell cryptocurrency in this platform.
10. Remitano is concentrating on increasing the number of countries served, cryptocurrency supported and lot more additional support features.
For more info about Remitano exchange at cryptocompare
Why Remitano Clone Script from Bitdeal ?
Bitdeal , Well-Known Crypto exchange development company furnishes the best remitano clone script to start your own crypto exchange. Bitdeal's Remitano Clone Script includes the following features.
1. Two Factor Authentication
2. Secured Escrow Wallet Integration
3. Multi-language Support to cover traders over the world.
4. Multi-currency Support.
5. Offline wallet development to prevent hacking.
6. Development of exchange on both mobile and desktop platform.
7. With as many as payment methods.
8. User-friendly Admin dashboard and lot more.
Buy Remitano Clone Script Free Demo !!
Disclaimer: Bitdeal never has control over the Remitano and their trade mark, also we are not doing any promotional activities for them . We are using the term "Remitano" for easy understanding and identification. Our products and services are not mean to harm any organization or individual.
cryptocurrency
remitano clone script