NFT Gaming Platform Development Company | NFT Gaming Solutions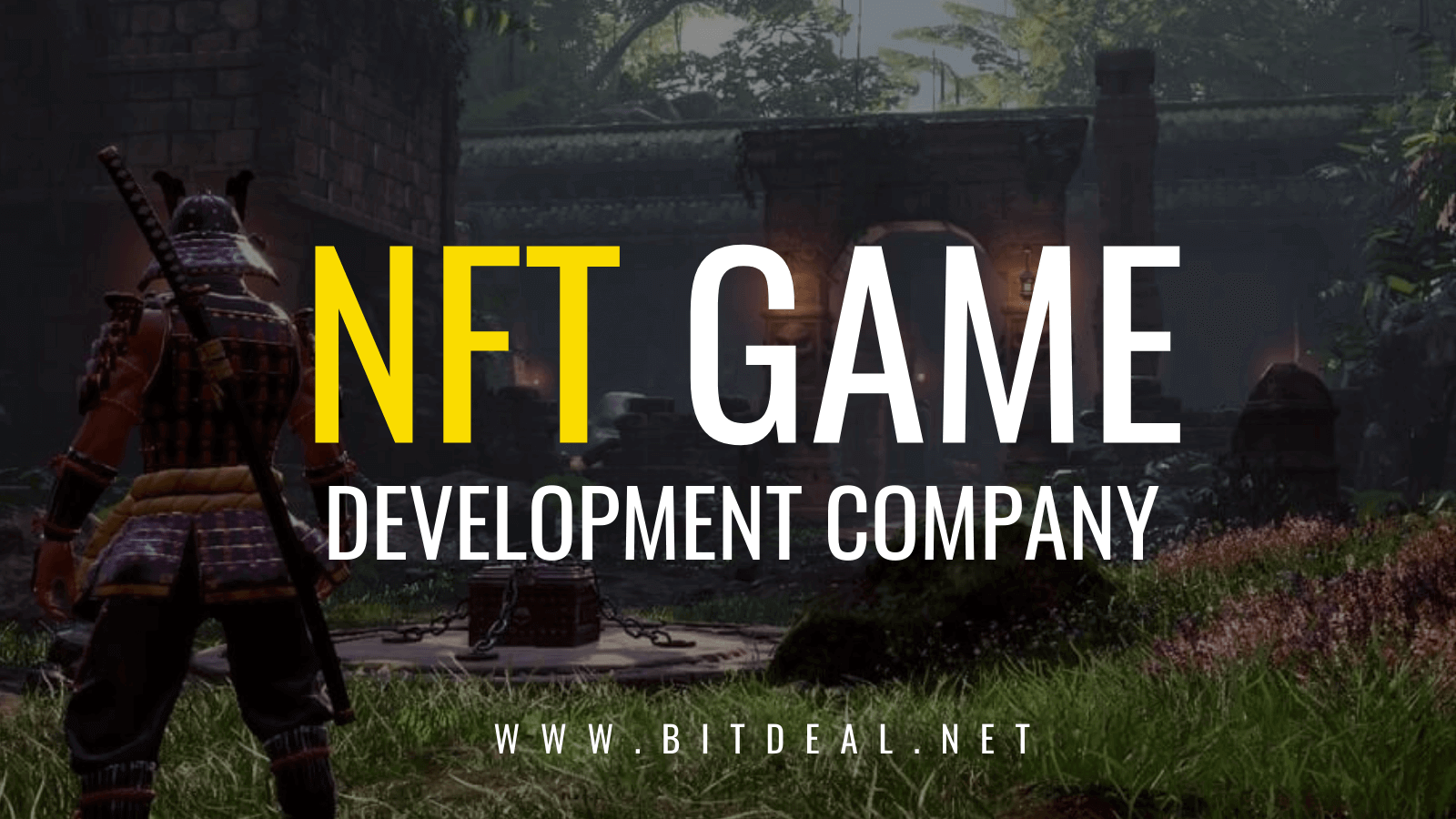 NFT Gaming Platform Development
NFT Gaming Platform Development is the process of development and deployment of a decentralized NFT Marketplace script inbuilt with complete gaming features and plugins to launch NFT Gaming platforms like Decentraland, Evolution Land, and more. This NFT Marketplace Game Development can assist you in reaching the massive online game players which in turn offer a huge revenue.
As there are already huge lovers of online games and this addition of NFTs can ignite the players more towards the platform to play games. Thus, NFT Gaming Platform development will be the best revenue-generating business idea that anyone can initiate without any hesitation or fear.
Are you one of the budding entrepreneurs, who wish to launch your own NFT Gaming Platform? Then, get the unbeatable NFT Gaming Development Services from Bitdeal now!
Feel free to catch our experts regarding your requirements anytime.
NFT Gaming Platform Development Company - Bitdeal
We Bitdeal - Leading NFT Gaming Platform Development Company offers NFT solutions for all kinds of games. Our Experts develop and deploy NFT Gaming Marketplace Script with all the essential gaming features, functions, add-ons, and plugins to instantly launch your own NFT Gaming Marketplace Platform through which game players can actively play the games and earn rewards in terms of NFTs, Non-Fungible Tokens.
With constant & keen observation of the growth of NFTs and NFTs in gaming, our experts have initiated the services of providing NFT solutions for the gaming industry. As of now we develop & deploy NFT Marketplace Script with respective gaming features to launch the NFT Gaming Platform that supports the respective gaming experience. We also provide the clones of the best NFT Gaming Marketplace that will drive you to quicker brand identity in the market.
Basic Features of Our NFT Gaming Platform Development
Mentioned are the basic features we involve in the development of the NFT Gaming platform.
⇔ Scarce
⇔ Exact Validity
⇔ Cross-chain compliance
⇔ Royalties
⇔ Realistic Gaming Addons
⇔ Creative Visual Modules
⇔ Transparent transaction methods
⇔ Rewards & game collectibles based on NFTs
⇔ Algorithmic updates & game upgrade
⇔ Decentralized storage for asset management and more.
Our NFT Gaming Platform Development Services
Listed here are the NFT Gaming Development Services that we offer overseas.
NFT Gaming Marketplace Development for Action Games
Action games are one of the most popular games which offer numerous opportunities for NFTs. We Bitdeal develop your action games with features like characters, special powers, tickets, equipment, and all features based on NFTs which makes players more active in gaming.
NFT Gaming Platform Development for Arcade Games
Arcade games add more fun aspects to the ever-lasting gaming industry. Our experts develop Arcade games with Non-Fungible Tokens(NFTs) based features and rewards making games more interesting among players.
NFT Gaming Marketplace Development for Racing Games
The most entertaining games that cover all kinds of individuals irrespective of age are the racing games. We integrate NFTs virtually in racing games within vehicles and accessories to add extra taste to the gaming.
NFT Gaming Platform Development for Adventure Games
From the inspiration of most popular NFT Adventure games such as Walking Dead, Minecraft that offer a virtual experience that is also authentic, our experts deploy NFT based Adventure gaming marketplace with exciting tickets, costumes, and powers & more.
NFT Gaming Marketplace Development for Board Games
Many online board games such as ludo involve community sports experiences, where each player will have a singular representation to identify them. Our NFT Game Developers include the representation of individuals by NFTs inside the community.
NFT Gaming Platform Development for Casino Games
NFT facilitates the representation of the value of assets for playing casino games. We provide NFTs for casino games instead of actual fiat assets or cash which makes the game more popular among people.
NFT Gaming Marketplace Development for Simulation Games
We provide real-life experience in gaming just by allowing users to purchase assets like trucks, cars as NFTs. We also integrate AR/VR technology for a better simulation experience.
NFT Gaming Platform Development for Sports Game
An authentic user experience is gained through sports games and this it offers a better online gaming experience. You can purchase exclusive players and teams with NFTs and also better deals are also listed in the marketplaces.
Our Additional NFT Solutions in Gaming
Some of our NFT related development solutions that we provide with NFT Gaming Marketplace Development includes the following:
1. Completely Customizable NFT Marketplace Development
2. NFT Token Development
3. Realistic Gaming Feature Integration
4. Attractive Visualization Development
5. Development of Plug & Play Module
6. Integration of AR/VR in NFT gaming
7. Involvement of high-end graphics
8. Asset Listing Integration
9. Advanced & Attractive UI/UX design
10. Exclusive Deployment of perfect NFT Gaming Marketplace.
Blockchain Networks We Work for NFT Gaming
We Bitdeal - Blockchain Development Company support for any kind of development services on various trending blockchain networks. When it comes to NFT Gaming development, we majorly concentrate on the below networks and we also develop NFT Gaming Platform on blockchain network based on your requirements.
► Ethereum
► Binance Smart Chain(BSC)
► Polkadot
► NEO
► Stellar
► EOS
► Hyperledger
► Corda
► NEM
► BIGCHAIN and so on.
Our Top Selling NFT Gaming Marketplace Clone
We Bitdeal have a team of experts who R & D of NFT Marketplace to identify the best playing NFT gaming Marketplace and develop NFT Gaming Marketplace Script with all the features as like in any top NFT Gaming platform to launch your own NFT Gaming Marketplace with the same functionality to gain quicker brand visibility.
Listed here are some of our top-selling NFT Gaming Marketplace Clone Scripts.
⇒ Cryptokitties Clone Script
⇒ Axie Infinity Clone Script
⇒ Sorare Clone Script
⇒ Evolution Land Clone Script
⇒ ChainZ Arena Clone Script
⇒ Gods Unchained Clone Script
⇒ F1 Delta Time Clone Script
⇒ Decentraland Clone Script and more.
Why Choose Bitdeal for NFT Gaming Development?
Listed here are the reasons to choose Bitdeal - NFT Marketplace Development for your NFT Gaming Marketplace Development Services.
7+ Years of Experience in Cryptocurrency & Blockchain Development
The pool of Certified and Skilled Experts
Transparency in Development & Billing Process
Flexibility in work according to the requirements
On-Time delivery without any delay
Realistic and advanced gaming platform development
NFT Marketplace with creative visual games
Keen Market observation & analysis
24X7 technical support team availability
Best NFT Marketplace Game Platform development at affordable costs.
Then, why still wait for the right time? Connect with our team of Experts with your business requirements now and launch your own NFT Gaming Platform instantly.
NFT in Gaming
NFTs sound heavy in all the nooks & corners of the crypto globe because of their uniqueness and distinct features. These NFTs have huge potential to uplift the gaming industry.
As there are already more & more developments in the gaming sector such as video gaming, online games, decentralized blockchain-based gaming, and more. Now, these NFTs have entered the gaming globe to shift the whole industry to a new era of development.
NFTs can be utilized as rewards and assets in the gaming platform which makes the players more active and participate in the game to reach different levels. In each level and in each game the use of NFTs will vary, but overall it benefits the players and the whole gaming industry as a whole.
Why NFTs in the Gaming Industry?
Key Factors of utilizing NFTs in the Gaming Industry are as follows
As NFTs have high transparency, which can offer a better gaming experience.
NFTs are easily verifiable, provides more accessibility in gaming
These NFTs are Scarcity in nature and offer better gaming frameworks.
Benefits of NFTs in the Gaming Industry
Here are the advantages of NFTs usage in the gaming industry.
⇒ NFT gaming assets can be used in any game as they are interoperable.
⇒ NFT games provide huge revenue-generating ways.
⇒ Provides exclusive game playing with help of customized virtual assets.
⇒ Transparency in the cost of gaming assets inside the community
⇒ Drives huge attraction among the people
⇒ One NFTs can be used in multiple games to maintain scarcity
⇒ Demands of these exclusive NFTs increase the value of the token.
⇒ Provides a way to play with customizable virtual assets.
⇒ All the contributions of rewards are given in NFTs
⇒ NFT games provide earning of NFTs rather than actual cash.
⇒ Listing of these NFT assets can bring more people to the NFT marketplace and more.
Basic Features of NFT Gaming Platform
⇔ Transparency
⇔ Scarcity
⇔ Customizable
⇔ Verifiability
⇔ Interoperability and more.
Top NFT Gaming Platforms in the Market
Some of the top players of NFT gaming in the market are as follows :
Decentraland
F1 Delta Time
Cryptokitties
Axie Infinity
Evolution Land and more.
Get developed your own NFT Gaming platform like any of the above and be a top player in the NFT Gaming industry.